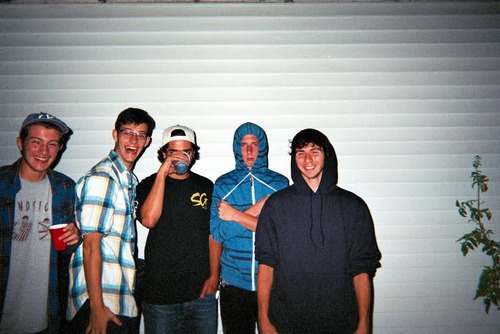 Burlington, MA's Grandview are gearing up for the release of their debut album, 'Everything Between Paint and a Wall' on July 8th through FITA Records and Six Pine Records.. The album sees quintet take elements of pop-punk, emo and punk rock and ball them up into a bold, favourable of catchy indie rock.
With comparisons to Transit, Into It Over It and Pentimento, Grandview are definitely one to keep an eye on, as they're one of the brightest upstarts to appear on our radar in quite some time.
To give you a better inside into what Grandview are about, they've provided us with an "Already Heard Track Guide" to 'Everything Between Paint and a Wall'. Read on to find out what the record is all about and don't forget to pick the record up next week.
Paint
This came from a few lines that Lucas had. I kind of think of this as a prologue in the sense that it sets the whole arc of the album in motion.
Seeking Out Gold
One time I went to Target with my mom, and when we went to check out, the cashier lady started telling us about all these coupons she had. She couldn't hold in how excited she was about collecting them. Just totally buck wild over coupons. So when we wrote this song, a lot of the lyrics came from being bummed that some people can find comfort in little things like that, and others can be totally apathetic about aspects of their life that should mean a lot.
The Only Constant
After going through the same routine for so long, I think it's easy to get freaked the hell out when circumstances change. I feel like I didn't really know how to adapt and go with the flow as well as other people did.
In Good Company
Nothing is worse than fucking up relationships with people who don't deserve to get hurt. You feel like a total butthead.
To the Sun
Continuation of 'In Good Company'.
7
This is a pretty immature and pissed-off song about someone you used to admire and now look at and just kind of cringe. I think it came out sounding cool, but this is the only song on the record that we all agree doesn't quite fit in.
Saw the Sky
The first song we wrote for the album. We had everything finished like two weeks after we released our EP, and we ended up editing and revising and scrapping parts of the song until it came out as the final product. Even though this kind of sound isn't exactly one we'd like to pursuit moving forward, it was still fun to make and rework and eventually see a song we were proud of.
Say Nothing
This is from Arthur Miller's Death of a Salesman. I really like this scene, and I think it's super relatable to the overall themes of the album. Three cheers for not getting sued yet.
Shaper
The first effort to not get lost in self-pity, which I think is neat because most of the previous songs on the album tend to do exactly that. I hope it shows a sense of progression.
Sitting on Gold
This is about finding your own coupons.
Wall
Most of what the future entails still freaks me out, but it's cool when you can understand that and move forward and just deal with it.
'Everything Between Paint and a Wall' by Grandview is released on 8th July on Fist in the Air Records and Six Pine Records.