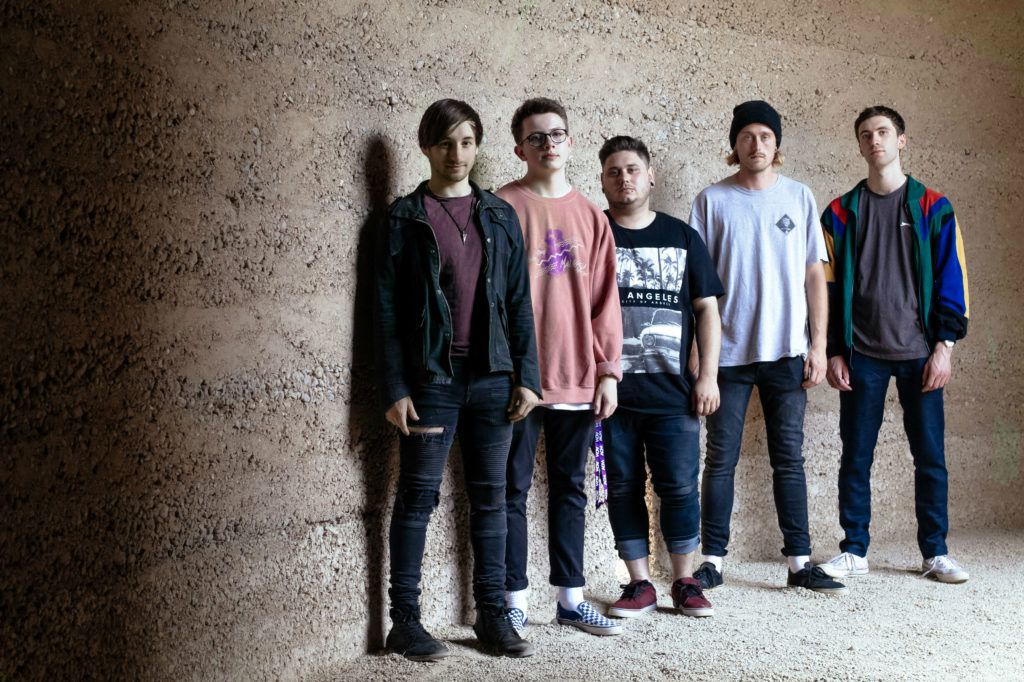 Meet Guildford quintet Follower. Formed less than a year ago, the alt-rock newcomers are already being labelled as "ones to watch" and it's easy to see why. Their debut EP, 'Against The Ropes', rides on a wave of soaring, emotive hooks with plenty of energy.
However, beyond its towering choruses and punchy delivery, 'Against The Ropes' is the result of its members facing personal issues; health struggles and individual regrets. In short, Follower show plenty of maturity, despite it being early days for the five-piece.
Ahead of its release this Friday (March 22nd), the lads in Follower have given us a track-by-track account of the songs behind their debut EP.
Fallen Down
Ollie (Moor – Guitar): 'Fallen Down' was one of the first tracks written for the EP and it was one of those songs that seemed to come out really quickly. I remember writing pretty much all the music for it in an evening – obviously this isn't always the case as there have been some songs that have taken years to get right, but this one came together very quickly.
Lyrically this song is about a condition I got diagnosed with a few years ago called 'Hyperacusis' which is when you have an increased sensitivity to sound resulting in everyday sounds becoming painful e.g. ringtones, plates clanging and worst of all, music. For the first few months of me having the condition, I didn't even know what it was because I hadn't yet been diagnosed and there was very little about it online. I then spent a lot of time locked in my room with earplugs in because pretty much every sound I could hear, caused me physical pain.
All the lyrics for this song came from this dark period of my life but at least I got a song out of it… Thankfully I was able to get treatment and after about a year I was fully recovered. The lyrics aren't specific and don't actually mention the condition at all as I was scared no one would be able to relate to it. By leaving the lyrics vague, it allows people to relate to it with any problems that they're going through.
Voices
Luke (Archer – Vocals): The idea for this song came about when I was talking to the band about how I sometimes expect myself to fail at certain things due to having ADHD. I was given a referral for diagnosis in early 2017 and this became a huge turning point in my life as it explained so many things that I'd never understood through my teen years. But with ADHD comes many struggles, and therefore I always expected to fail at things, often feeling very surprised and confused when I didn't. The chorus, "as I call out for help there's no-one to be seen at all", describes the loneliness I felt when others couldn't understand, and "the voices […] tell me that soon I'm gonna fall", describe the anxiety that comes with ADHD and the little voice reminding me that I'm only going to fail.
The verses talk about the "sirens […] screaming through empty souls" which is a metaphor to how there's no evidence to point towards me failing aside from past experience with ADHD despite being in completely different areas. Nonetheless, the voices are so strong that the belief cements itself through empty evidence anyway. The song then finishes with one final plea to the voices, believing that I will fail and desperately wanting to escape from the hole I had fallen into so many times before.
Faded
Joe (Durrant – Bass): 'Faded' was a track that came together very naturally, containing a strong mixture of input from all members. The track started as a demo written by Damien which soon took form after a few writing sessions at Ollie's. One of the things which we included in the verses are reversed guitars to try add a rhythmic too and throw to mimic being in a destructive cycle or relationship.
The lyrics and vocal melodies seemed to follow pretty soon after. Drawing on personal experiences which were happening at the time, I had a spark of inspiration for some melodies and lyrics. This took us to almost having the song complete and in turn, Luke was able to put in last finishing touches on the track.
Lyrically this song stems from personal experiences I was having during writing this song. This time wasn't a great time for myself or a few people very close to me. A loved one of mine was dealing with battling their problems, while I was having my own personal issues. Both of these things combined were ultimately causing bigger problems, for everyone. The song talks about being at the breaking point of dealing with these demons and some of the personal effects.
The song's chorus "I wanna run away, from the tragedies" is talking about not being able to cope anymore and wishing to run away from the issues. While the verses "it's 3am and I'm alone" and "I'm counting sheep, my head's a mess" talks about the lack of sleep these issues were causing me due to stress, worry and guilt. In the first verse, Luke goes on to sing "I haven't seen anyone in about 3 weeks and it's been months since you last phoned", this talks about the exclusion these problems have caused, while highlighting a break down in a former relationship of somewhat.
Someday Soon
Luke: 'Someday Soon' was one of the first full songs I ever wrote as a teenager, with a little bit of a helping hand from my sisters. I remember writing this song thinking that I didn't want it to be a typical heartbreak song, so I gave it a bit of a twist to have some hope in there, thinking "maybe we could give it another go in the future?". A lot of the lyrics within this song are actually quite contradictory with one another, such as "we'll find a new way in time", vs "happy ever after wasn't enough for you". I suppose this stems from the fact that love can be so f***ing confusing! So, as this confused young teenager, I had all these random emotions that I put into this song, where you find yourself thinking one thing but then questioning it with another.
Instrumentally this song was originally written on the acoustic guitar, so when preparing it for the EP we were a little bit stumped. I always knew I wanted it to become a full band song with a guitar solo in the bridge, but getting it right was quite tough. Some of the drum parts were actually written in the studio on the day of recording! But we managed to get it there just in the nick of time.
Hurricane
Damien (Mcvey – Guitar/Vocals): For the instrumental side of this song, we wanted to represent the meaning behind the lyrics. The clean and calm verses with angelic backing vocals represent the desire for things to go smoothly in life. When the chorus hits the energy lifts, representing the Hurricane. We really wanted a massive epic outro to this song so we made sure when we were recording in the studio we added multiple guitar and synth layers to beef it up. The lyrics in the outro refer to this being an ongoing problem and finding a way to overcome it by taking control and not letting it defeat you or drag you down.
Luke: When writing the lyrics to this song, the concept came from the impulsivity I've had to deal with throughout my life. I'd often find myself saying stupid shit without thinking, and then instantly regretting it, either getting myself into trouble or hurting those around me. The 'hurricane' is a metaphor for the words spilling out of my mouth, and the aim is wanting to forerun that hurricane to prevent the whirlwind of problems that it causes. The issue is that I know it's my fault, which is the worst part of it all. The 'demons', or insecurity and mental instability, are only a part of the problem, and "can't be tamed" even after relentless therapy and self-medication.
Dreamer
Ollie: The song originally came from a riff our old guitarist made at a rehearsal a few years back, but we thought it sounded a bit too happy so we scrapped it for ages. Luke and me then met up and agreed it had potential, so we rewrote it in a minor key and it ended up being the heaviest track on the EP!
Lyrically, 'Dreamer' is a song written about taking control of your life and doing what you need to do to get where you want to be. I feel like everyone's probably guilty of thinking about doing things but waiting on it for too long or complaining about your situation and not doing anything about it. This song is about realising where you're at in life, accepting it and then moving forward.
Videos/Song Streams courtesy of Punktastic.
'Against The Ropes' EP by Follower is released on 22nd March.
Follower links: Facebook | Twitter | Instagram | Bandcamp
---
If you have enjoyed reading this article and would like to help us produce more content and promote more great new music, please consider donating to our Patreon page.