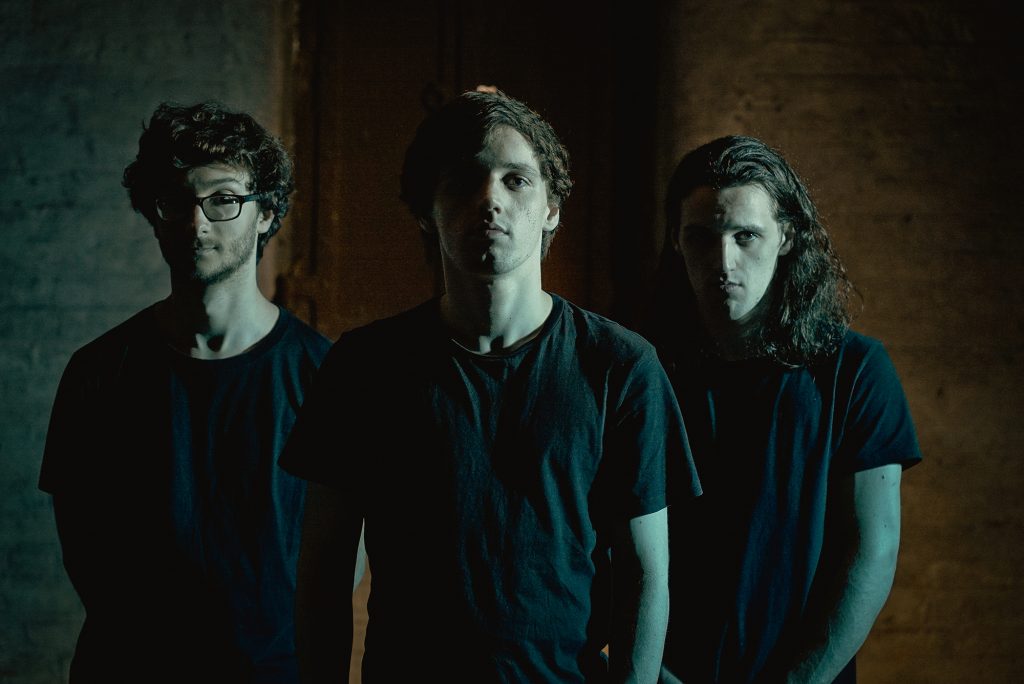 On their new EP, 'Canvas', Bristol trio Blank Atlas produce a vibrant mix of hook-y choruses, textured riffs and infectious harmonies. Wrapped around by a distinctive British alt-rock sound, songs such as 'Sing For Something', 'Halfway There' and 'Borrowed Time' thrive with urgency and confidence.
Beyond the riffs and three-part melodies, Blank Atlas offer a set of songs drummer Tom Thould recently described as "brutally honest". Undoubtedly, the five songs that make up 'Canvas' are lyrically direct.
We spoke to Dan Thould (guitar/vocals) and Chris Simpson (bass/vocals) to break down the EP track-by-track.
---
I Was Told This Is How Wars Start
Chris: Usually we stick a song in our set a few months before release, but this one was kept more or less under wraps until the video came out. I remember finishing the lyrics for the second verse about an hour before Tom had to record his verse! The lyrics are about something I feel very passionate about, which is the way we (especially on the internet) discuss and debate on things. It's all become a bit of a shouting match, which is reflected in the lyrics which are a back and forth of 'I think I'm right, I think you're wrong!' Nobody presents any ideas or evidence. When me and my younger brother would argue, trying to get the last word in, not really listening to each other, our mum would say "This is how wars start!" Which I still think is funny, how something that was told to children still applies to us all as adults. That's what inspired the title.
Sing For Something
Dan: This was the first song written for this EP. I wrote it in the summer of 2016, so we have been sitting on it for a while. It's basically about being passionate about something, in our case, it's being in a band but can be applied to any goal you might have. My favourite line in the song is "You have to build before you fall", which means to me that you will never know unless you try.
Halfway There
Dan: This song came earlier on when we started writing for this EP. It's very short so there isn't that many lyrics in the song. But it's basically about knowing someone who is feeling down and just reassuring them that everyone has been there at some point and to not give up. There are lots of people around you that can give you a boost up if you're feeling down.
Borrowed Time
Chris: This is one of the more heartfelt songs on the EP. It's about knowing someone who is destroying themselves, be it through drink or drugs, and being scared and angry about that. The ending line "It's not just you" is repeated throughout the final section and I always thought of it as having several meanings. It's not just you in this world, you have to consider other people's thoughts and think of others. But also it means you're not alone, you can talk to others and lean on them. It also means you're not the only one who feels this way and does these things. So it ends on a hopeful note despite the angrier themes earlier in the track.
Envy
Chris: 'Envy' is probably the most brutally honest song lyrically on the EP, and instrumentally our collective favourite. It's about feeling depressed or unmotivated where there seems to be no obvious cause and envying people who just "get on with it" despite their problems. There is also a strong theme of guilt running through the lyrics, especially in the second half of the chorus; I start every day too late I'll say "I'm not feeling great" While you're out working like a slave How can I say that's ok? Instrumentally we worked out this crazy chromatic riff for the middle 8, but it lacked a bit of character. Tom suggested putting a sort of missed beat at the end, which technically makes it 15/8 for all you prog nerds out there. It's super fun to play and really satisfying.

'Canvas' EP by Blank Atlas is released on 5th October.