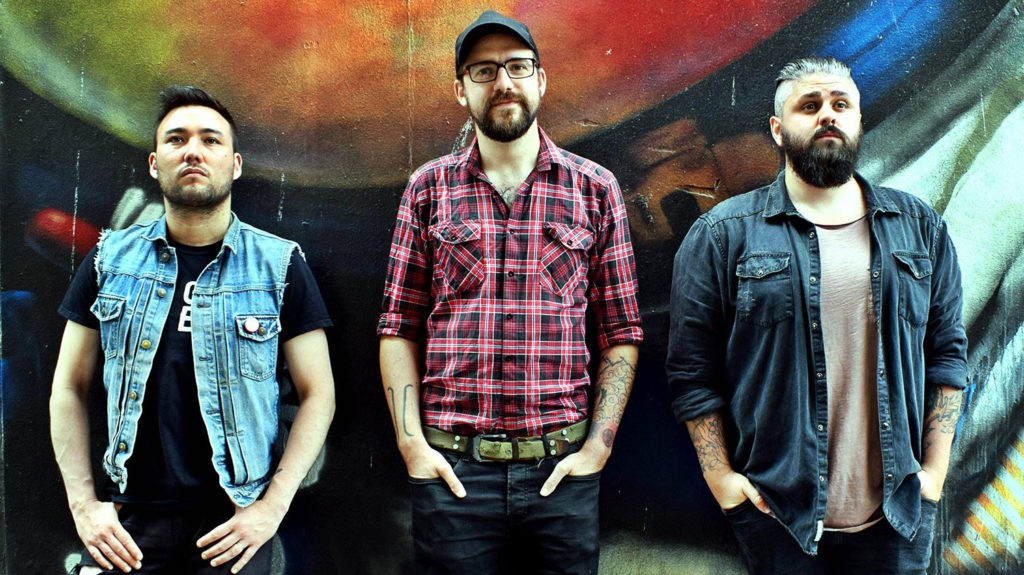 It's common knowledge that Scotland has a knack for producing stellar rock bands. While Biffy Clyro, Twin Atlantic and The Xcerts are amongst the first names to come to mind, there are a wealth of emerging bands with Atlas : Empire being one of those bands. Over the past six years, the Glasgow-based trio have crafted a diverse sound that incorporates alt-rock, prog, metal and post-rock.
After a succession of EP's, their debut album, 'The Stratosphere Beneath Our Feet', serves as their most varied and ambitious release to date. Not only does it embrace the stylistic range of what has come before it, lyrically it takes on an elaborate concept centred around humanity's growing reliance on technology. Over the course of 10 songs, Steven Gillies (vocals and guitar), Jamie Sturt (vocals, guitar, keys and electronics) and Robert Hasebe (bass) explore how a dehumanised and disconnected society collapses this dependency is removed. The end result is an intelligent and intriguing record.
Ahead of its imminent release, Steven and Jamie from Atlas : Empire have penned this track-by-track account of 'The Stratosphere Beneath Our Feet', explaining the backstory behind how each song came together.
---
As Yet Unwritten
Jamie: Anyone that's seen us live in the last few years will recognise this track, as it's our go-to opener. Despite this, it wasn't originally placed as the album opener. The driving opening bars that are gone almost as soon as they've begun, being replaced by something more ethereal, felt like an appropriate opening statement for our first full-length release.
Steve: 'Unwritten' is one of the most uplifting songs on the album – from the major key arpeggios in the verse, via the fuzzy 5/4 lead riff to a massive chorus – it's an alt-rock song with a progressive twist. Think Pearl Jam or The Smashing Pumpkins meets Cloudkicker.
Diminishing Returns
Jamie: 'Diminishing' came from the last writing sessions prior to entering the studio. It was initially a 45 second home demo made while I was experimenting with time signatures, switching between a tapping part and chords, trying to move between them without it sounding jarring. I thought it worked. I wrote the chorus progression then took what I had to the band.
Steven: Jamie brought this song to us almost finished. I wanted to write something riffier for the outro, so with a bit of jamming around in the right key, we locked in the two-phase outro part. One of the most fun parts of an A:E song to play live.
It's All In The Reflexes
Steven: Another song that's been a staple of our live sets for years now and also featured on our previous EP, albeit a different version. '…Reflexes' is one of our more straight-ahead alt-rock songs, with a more conventional structure. Musically, it moves from a mellow verse through the pre-chorus, which build tension with clean, palm-muted guitars and soft vocal harmonies, before the chorus kicks in. If the album has one "radio single" it's definitely this song. Jamie and I trade off lead vocals & guitar lines throughout this song, before the outro slows down and closes out with A Capella vocals.
The Moment We Were Exploding
Steven: I wrote this song whilst I was listening to a lot of Dead Letter Circus & Circa Survive – I think these influences show and the result is easily one of our "proggiest" and heaviest tracks. I love how the song moves from the intro/chorus through the dancey verse part, the mix of live and programmed drums here is really cool. The middle section is one of my favourite arrangements on the album – how the main riff breaks into chords at unexpected points, but you can still headband to it. The drum performance throughout this section is insane! Definitely one for the tech fans.
Gethsemane
Jamie: I was living in Edinburgh at the time we were finishing writing. As most of my gear was at our rehearsal space in Glasgow, I did most of my writing on an old Eko Ranger acoustic that my mum had bought in the 90s. I originally envisioned the song for my solo, but Steve had other ideas once I played it for him – to use it as a moment of quiet amongst the chaos of the record. So, I set about tightening up the structure and finishing the lyrics, drawing imagery from a youth spent in churches and bible studies and a fascination at the time with Gavrilo Princip, merging them thematically with the rest of the record. What finally emerged was in many ways radically different from anything we had done before but fits on the album seamlessly.
The Entire History Of You
Steven: The closest to a "post-rock" song you'll get from us! Predominantly instrumental, very ambient, ethereal guitar work is underpinned by driving drums & bass. It gets pretty heavy from the 2nd verse, before switching moods to a staccato chord section with some intricate lead work. We played this every night on The Appleseed Cast tour, it's definitely one of our songs where you can hear their influence.
I'm a big fan of bands like Caspian, Gifts From Enola and And So I Watch You From Afar – instrumental band that mix heavier elements with the traditional ambience associated with Post Rock. This song's title is inspired by Black Mirror.
Hostess
Jamie: A prime example of why you don't always throw away a song that doesn't quite work. We played the initial version of 'Hostess' a couple of times live in our first year but we weren't happy with it. Then Steve told me that he and Johnny (our drummer at that time) had been in the studio reworking it a little bit. Turns out 'little' was something of an understatement. The verse chord progression is still there but so much had been changed, I doubt anyone would recognize the similarities. With the music so drastically altered it was only natural that the lyrics followed suit and before long we had a whole new track, one of the strongest we've written.
Steve: 'Hostess' v2.0 is much heavier and mathier then the initial version. Neither Jamie or I were happy with the first incarnation, beyond the verse riff. I came up with the 2 variations on the verse progression, utilizing hammer-ons and a sequence of irregular time signatures – resulting in a more chaotic but still groovy feel. In a similar way to "…Exploding", this song is one of the more technical on the album.
The Year Of The Four Emperors
Jamie: The working title for this song was 'Post Tour Stress Disorder'. After a particularly gruelling tour, while I was at one of my lowest points, I almost quit the band. I set about to write something, anything that could express what it felt like to inhabit my particular skin at that point. So it's jittery, there are beats dropped everywhere and it crescendos violently before descending into melancholy. This song is the sound of me ALMOST being defeated.
Our Hands Part The Waves
Steven: This song came out of the batch of writing sessions for the album, along with 'Diminishing', '…Four Emperors' and 'Gethsemane'. I wrote it on my baritone, tuned to drop A, but despite the low register its predominantly major key. Another very progressive song, shifting from heavy, shoegaze-y verse part to a more jarring pre-chorus. The mood shifts again, halfway through, with Jamie and I employing layered delays and reverbs, whilst the bass and drums keep the groove locked in. This song has become our regular set closer, as we feel it's a perfect balance of heaviness and melody.
Cenotaphs
Steven: 'Cenotaphs' features the oldest music on the album but has been through a few incarnations since I wrote it back in 2010. I was in a transitional writing phase, where artists like Bon Iver and Bjork were on heavy rotation and I was totally disenchanted with heavy music. Cenotaphs started on an acoustic guitar and I demoed that version on an old Roland 8 track. It took its full form years later when we worked on it in the rehearsal room. The bass sound during the first 2/3rds is really fuzzy and lo-fi, which I love. It creates a synth-esque layer under the cleaner guitars.
The outro section came a little later and Jamie really took this to a new level with his programming. We layered up the harmonies on the closing lyric "The view from here is everything / The stratosphere beneath our feet". The album couldn't really end another way.
'The Stratosphere Beneath Our Feet' by Atlas : Empire is released on 7th December.
Atlas : Empire links: Twitter | Facebook | Bandcamp
---
If you have enjoyed reading this article and would like to help us produce more content and promote more great new music, please consider donating to our Patreon page.