Last month South Coast pop rockers The Afterparty headed out on the Already Heard-sponsored "The Summer Lovin' Tour" with Preston pop-punkers Next Stop Atlanta.
As part of our "Tour Tales" feature, the five-piece gave us an insight into what they got up to during the short run of shows.
If you would like Already Heard to promote and sponsor your tour/show or set up a "Tour Tales" feature, send an e-mail to [email protected] for more information.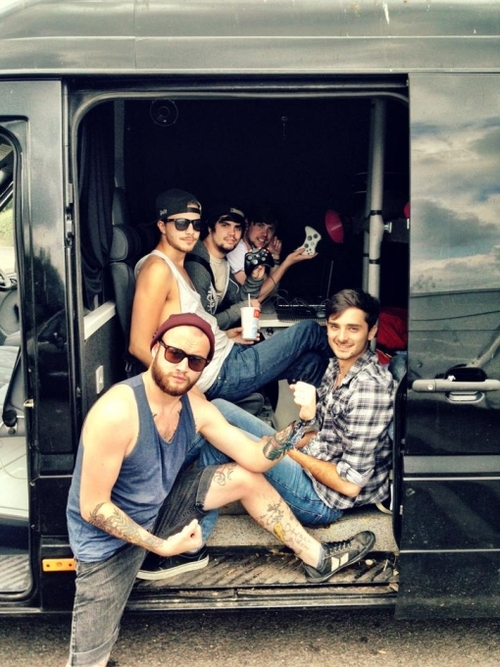 Day 1 (Preston – Dave Shread – Bassist)
In typical day one style we naturally ran late, as we'd hit traffic on the M6 so we missed soundcheck. Once we were finally in the venue everyone went off on the inevitable treasure hunt for spare plug sockets to charge phones and iPods, and then before we knew it the doors had opened and there was a steady background murmur of conversation from the groups of people gradually filling the space. Tonight's opener were Leeds band Hideaways, who impressed us along with everyone else. Definitely worth keeping an eye out for. After watching their set Nic, Joe, and myself took ourselves off to the van with an acoustic for vocal warm-ups.
With that out the way soon enough we were onstage playing in a town we'd never played before, and it was good to be back out on the road again. It had been awhile for me as I hadn't played a full band set onstage since April due to living abroad. Of course this being us something had to be off; in this case it was the sound onstage and none of us could hear anything. That said our driver Dave and a few others told us afterwards that we'd killed it so we tried not to dwell on it. After playing we grabbed a beer and watched new tour buddies Next Stop Atlanta play to their hometown crowd. They were clearly into it, with some people singing along and the rest generally just having a good time.
With the show over there was time for a quick late-night chicken stop and then it was off to Blake from NSA's place, where we were crashing that night. The original plan was to stay up for awhile and drink some beers but day one had taken more out of us than we realised, and in the end we decided on an early night before the long drive in the morning to Aberdeen.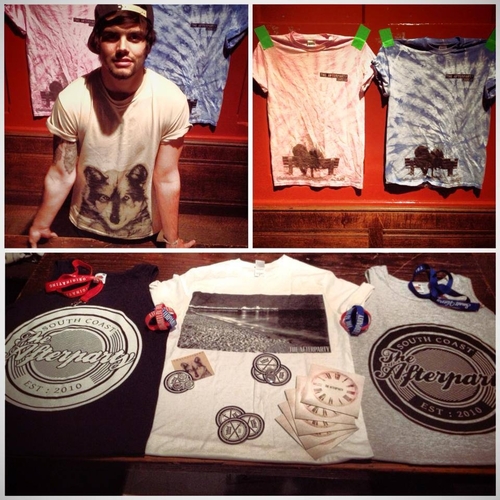 Day Two (Aberdeen – Nic Matthews – Vocals)
We had to wake up early o'clock for the absolute killer 6 hour drive to Aberdeen. Luckily for Matt (guitarist) and I, the journey seemed to fly by; this was mainly due to our rather worrying addiction to FIFA. We must have played over 30 games or something ridiculous that day. Once we arrived at the venue, Dave (bassist) and I went on the hunt for some early dinner as we were starving. In the hopes of finding something healthy, we spotted an M&S around the corner; of course we came back with pulled pork and chips from the hot counter. Not quite the healthy option we were going for, but absolutely delicious!
We ran through a couple of songs at sound-check. I'd forgotten how great the sound was at Tunnels, as it had been over three years since we'd played there last. Everything was clear in our wedges and out-front it was sounding massive. I couldn't wait to play.
I took myself off to set up merch in my somewhat OCD fashion. I can be a rather messy person, but when it comes to putting merch up it has to look awesome! We sold a few of our new tie-dye shirts before the show, which is always encouraging and suggests it's going to be a good night. We hit the stage and it seemed the cobwebs had been well and truly blown out after last night's show; tonight we were tight and full of energy. The crowd warmed to us quickly and we had a really positive reaction. Next Stop Atlanta smashed it too!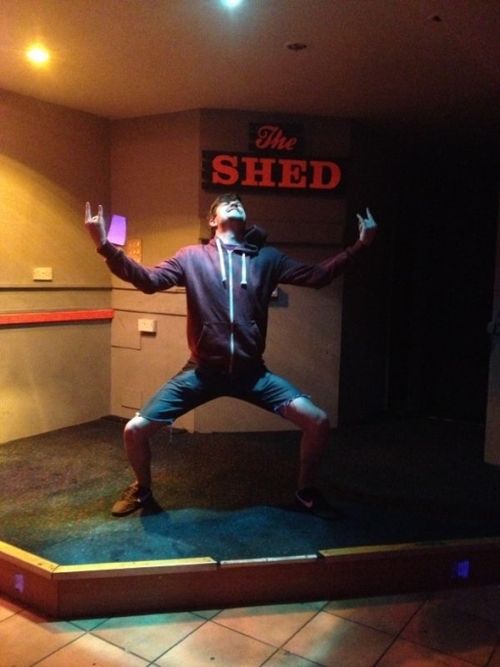 Day 3 (Leicester – Matt 'Muscles' Russell – Drums)
Whoever decided that Aberdeen to Leicester was a good idea was clearly insane! Google Maps tells us that this is a 7 hour journey. For Matt and Nic this is a lot of Fifa. For me, it's a lot of watching them play Fifa, which isn't quite the same…
Fortunately we managed to crash in Glasgow which meant our journey to Leicester was dramatically cut to a mere 4 hours. Our driver Dave Fee was an absolute machine and smashed this without the use of performance enhancing drugs such as Pro Plus &/or Red Bull.
This was the second time I had played The Shed with The Afterparty, and there were some significant similarities between the last time we played and this time. The first being that the promoter is one of the loveliest promoters we have worked with and he's very good to us. The second being that everyone who works in the venue doesn't really have a sense of time keeping and for some reason unknown to us there were also another 9 other bands playing in the same building, 5 in each room.
This was one of those shows which was a lot of fun in the end but on reflection, the circumstances we find ourselves in are sometimes baffling. Download Festival one week, playing in front of the toilets the following week! #Party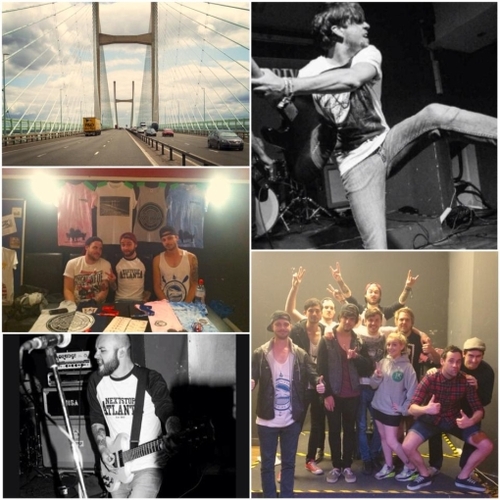 Day 4 (Cardiff – Joe Roshier – Guitarist)
This was the first time that the band had ever played in Wales, so we were pretty stoked about playing the show! It was also the first time I had ever been personally, so I was even more excited about it. Upon arrival at the venue, the first thing I had noticed when walking in was that you could buy 4 beers for £5, I couldn't believe it! I couldn't stop shouting it at everybody around me! Safe to say I took advantage of this… The show itself was a lot of fun! For a fairly small venue/floor show, the sound was very good. The welsh are bloody lovely people too! Can't wait to play Cardiff again on our July tour!
The Afterparty links: Facebook|Twitter
If you would like Already Heard to promote and sponsor your tour/show or set up a "Tour Tales" feature, send an e-mail to [email protected] for more information.