For our second edition of our new tour blog feature – "Tour Tales," we've teamed up with two rising UK alt-rock bands; Searching Alaska and Fenrir.
Earlier this month both bands headed out together as part of the 'Live Like Royalty' tour. Fenrir drummer Ben Brennan and Searching Alaska guitarist Jake Ringsell documented the first 5 days of the tour exclusively for Already Heard.
If you would like Already Heard to promote and sponsor your tour/show or set up a "Tour Tales" feature, send an e-mail to [email protected] for more information.
Day One: The Lanes, Bristol (written by Fenrir drummer Ben Brennan)
The day had finally arrived and we couldn't wait to get on the road to Bristol. Due to some wanker at TNT Couriers, Me and Rich (Wallis – Bass) had to wake up at stupid o'clock to collect the merch from Stansted Airport. After an annoying drive, we collected all the gear together and awaited the arrival of Lev (our manager) and Rich (our driver). We had a 15 minute load in time which we bossed and got on the road to Bristol.
After about 2 hours of driving Krishan (Alwis – Guitar) thought it'd be a good idea to go for a piss whilst stuck in traffic, he walked out the van, went to the small hill next to the van and pissed like a race horse in front of 20 other cars. Unfortunately for him the traffic jam moved on and he was left behind. We turned around and he A-teamed it into the van. When we got to the venue we unloaded and set everything up, got our rider, sound checked and then Searching Alaska started their acoustic set. Their set when down a treat and got a huge round of applause, people singing along and generally a really good vibe coming from them. They finished their set and then it was our turn.
We'd been waiting for this moment to start our first set on tour and it felt like everything went very well and went down well with the crowd. We came off stage sweaty and out of breath, feeling great that we had finally kicked off tour.
We drove straight to Egham as we are staying in Uni housing; courtesy of Christina (Rotondo) and Jake (Ringsell) from Searching Alaska. It's now 3 in the morning and we're still being loud and how no one's come at us with a tomahawk I have no idea.
Day Two: The Community Centre, Guildford (written by Ben Brennan)
We all had lay-ins, bacon sarnies and cups of tea. We had quick 20 minute drive in the van to Guildford which was nice! Crazy to think that it was only a community centre, the crew did an awesome job with sound and making it look like a venue.
All the bands that played were awesome. We made A LOT of new friends and fans. People seemed to be really digging the new tshirt design as well which was great! After the show we headed back to Jake's (SA) to get stupidly drunk as the venue was a non-alcoholic event. Christina (SA) smelt vodka and got wasted. That gave us something to laugh at for a while.
Day Three: Hunter's Club, Bury St Edmunds (written by Ben Brennan)
We stayed at Christina and Jake's again, another lay-in, more bacon but a longer van journey this time. After 2 and bit hours of driving we arrived in Bury, which is some of our hometown show. We loaded in and sound checked, everything sounded amazing.
As we sound checked, Rich decided that he would become a human shitting machine and have a bad couple hours.
People started turning up and the bands got underway. Both support acts were brilliant. Searching Alaska killed it as always and we had a lot of fun. Nothing feels better when the crowd sing your songs back to you. A brilliant turn out and a brilliant night. We went back to my house and all chilled for the night.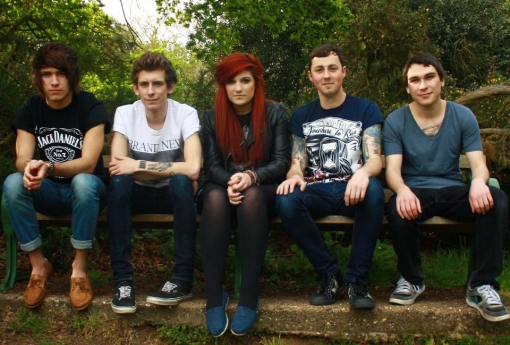 Day Four: The Steamboat, Ipswich (written by Searching Alaska guitarist Jake Ringsell)
We started our day in Ipswich with a band meal outing at a local Harvester. I personally had a mixed grill and would highly recommend it – steak, chicken, gammon, a sausage and an egg – bloody smashing meal. After polishing off our various meaty dinners (except Rich as he's a vegetarian – bit gay) we headed back to the venue to load in and sound check. It was at this venue that I developed a cracking little move that I would advise any musician reading this to adopt; my special move being hiding in the venue toilets when it's time to load in equipment. Also, a word of wisdom to anyone buying a drink at the steamboat, my double Jack Daniels and coke was pushing £7 – What the fuck. Anyway, after sobbing at the bar man I began courting a young lass who happened to be reporting the show – she was lovely.
Although a pub venue, The Steamboat was a brilliant venue with a lively atmosphere. The sound was surprisingly good for a pub and the staff were lovely as well. Fenrir managed to pull their local crowd, which really helped us out, making for a brilliant gig.
Day Five: The Penny Whistle, Northampton (written by Jake Ringsell)
Before Northampton at least four of us had been victim to the most terrible one-day bug the world has ever seen; It basically causes any food consumed by the individual to fuck straight off any way possible. I personally was feeling delightfully shit on this particular day and so, once again, escaped loading in – 2-0 Jake!
Our manager Lev actually banned me from eating anything until about 5 o clock when the bands rider came and lord it was phenomenal. I personally had what they called a Mexican burger. Don't let the name put you off kids, although a high unemployment rate and questionable social economic climate those Mexicans can make a bloody fine burger. I was so damn happy that I actually kept my food down and I was finally ready to rock out. The first band were about 10 years older than all of us but their age didn't show! They rocked out hard with some impressive hardware and even more impressive stage moves. A blend of refreshing backing vocals and sing along choruses made for a good atmosphere before we took to the stage.
I was proud of my band after our set; this tour has really helped us push forward in our live performance. After our set Fenrir smashed it once again and although I've heard their set a large number of times it's still not boring me – a good sign of top song writing lads!
I nearly forgot, the sound girl was a babe. If she was a president she'd be called Babe-raham-Lincoln. I'd go back to the venue for the burgers and sound-chick alone! We have Birmingham, Harlow and Colchester left on this tour. We're all pretty gutted it's coming to an end. If you didn't manage to catch us on this one hopefully we'll see you on our next run in the summer!
Fenrir links: Facebook|Twitter|Bandcamp