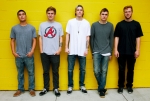 The Story So Far are currently touring the UK and earlier this week they played The Peel in Kingston. On the same day the Walnut Creek band stopped by Banquet Records for an acoustic instore performance.
The store have now posted the bands full live set from The Peel as well as the bands instore performance.
Both videos can be viewed by clicking read more.