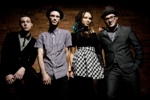 The first main stage bands for this years Redfest has been announced. The lineup is headed by Hudson Taylor and are joined by The Skints, Jim Lockey and the Solemn Sun, The LaFontaines, The Struts and JAWS.
Other names announced include George Barnett, Lauren Aquilina and Lulu James.
They will join the previously announced Total Uprawr stage lineup which is headlined by The Blackout and includes TRC, Heart of a Coward, Heights, The Dirty Youth, LostAlone, Polar, Baby Godzilla, Astroid Boys, The Catharsis, Slaves, The One Hundred, and Rat Attack.
Redfest 2014 takes place at Robins Cook Farm, Redhill, Surrey on July 25th and 26th.
Tickets for Redfest 2014 can be purchased here.