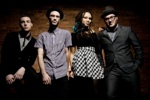 The next 2 acts for this years Slam Dunk Festival has been announced and sees London ska punkers The Skints and Cambridgeshire pop rockers The First being added to the bill for the 3 English dates.
The news follows last Friday's announcement which saw The Ataris and Chas Palmer-Williams added to the line-up.
In additional news The Blackout's Sean Smith will be the main stage compere, as well as DJ-ing at the festival.
Whilst organisers are looking for three bands to each play their nearest Slam Dunk. Full details along with information about the Slam Dunk Fest T-shirt design competition, can be viewed after the jump.
May
Fri 23rd Slam Dunk Scotland: Liquid Rooms, Edinburgh
Sat 24th Slam Dunk Festival North: Leeds University
Sun 25th Slam Dunk Festival South: The Forum Hertfordshire
Mon 26th Slam Dunk Festival Midlands: Wolverhampton Civic
Tue 27th Slam Dunk Wales: Newport Centre, Newport