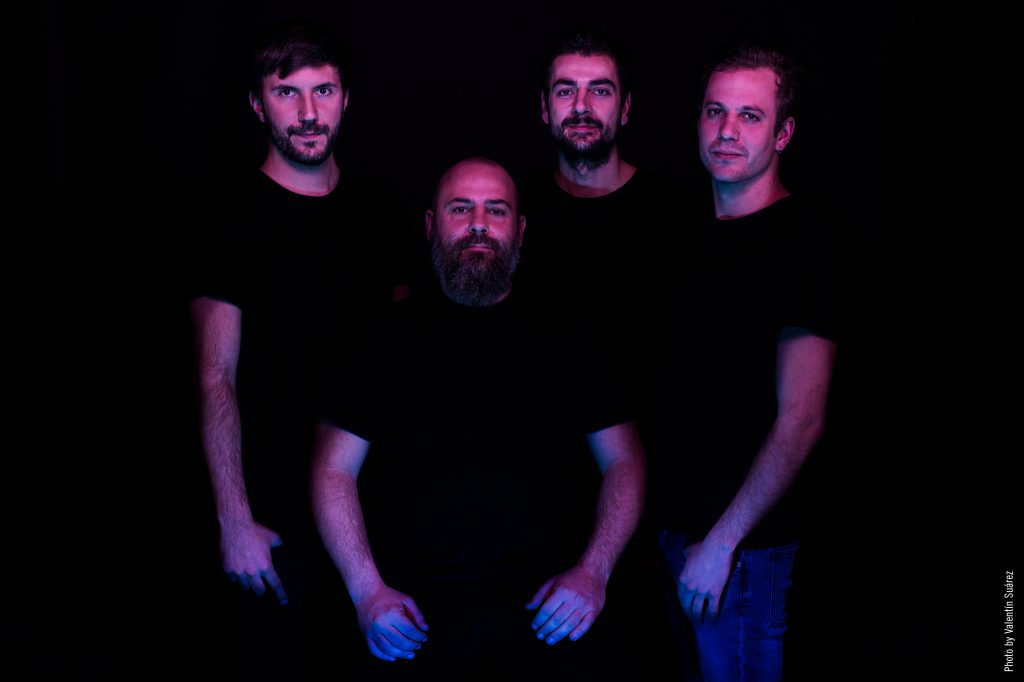 Over the course of 11 years, Spanish instrumentalists Toundra have crafted a well-rounded sound containing powerful riffs, gorgeous soundscapes and beautiful melodies. This week sees the quartet release their fifth full-length album. While their past outings have been numbered, album number five sees them embark on a new chapter as 'Vortex' takes a straight-forward, fuller approach.
Tracks such as 'Cobra', 'Tuareg' and 'Kingston Falls' define the band's sound; bold, melodic guitars and a thick rhythm section combining to create a compelling brand of instrumental rock. While the album's 11-minute centrepiece, 'Mojave', incorporates prog rock into band's expansive fabric. Undoubtedly, with each passing record, Toundra become more accomplished as 'Vortex' embraces the traits that had defined them beforehand and making them more clear cut.
Since forming in 2007, Toundra has called the Spanish capital of Madrid their home. Known for its intense cultural and artistic activity, as well as its football teams, Madrid is one of the four richest cities in Europe. It's also the sunniest city and has a population of almost 3.2 million. And as we learn, its unsettled political climate has been influential on the local music scene.
To find out more, we spoke to Toundra bassist and synth player Alberto Tocados.
The City:
Alberto: We live in Madrid. What I like the most of this city is that it's a place where people from all around the country come to live, work, etc. It's like a meeting point for young people looking for a better future. It feels very diverse.
Its People and Culture:
Alberto: I guess it's famous for its buildings and charming small streets. We're well known for having lunch at 3 pm and dinner at 11 pm on weekends, in fact, it's always difficult to us to get used to the European lunch/dinner habits. But it's also a place with a convulsed political history, we've been a democracy for only 40 years and there are still traces of "liberty restrictions" that makes us young adults aware of our rights and the future that waits ahead.
The Music It Inspires:
Alberto: There's a lot of political bands and singers. In fact, there are some rappers who are having huge issues with justice at the moment, they're about to go to prison. No free speech at all as you see.
The Local Music Scene:
Alberto: We had a huge punk/post-punk explosion in the 80s. But right now we have a lot of indie bands. If you want to do this for a living you have to go indie-pop.
Its Most Famous Musical Sons and Daughters:
Alberto: One of the best bands we had here is Nuevenoventaicinco (995). They evolved from hardcore to a more progressive-post stuff with lyrics about religion, politics and capitalism. Another band I love is Adrift, one of the bands who inspired me to form Toundra 10 years ago along with my bandmate Esteban (Girón – guitars, piano). Funny fact: Adrift's guitar player is now part of Toundra, kind of a dream come true.
Its Unsung Heroes:
Alberto: There's a lot of small promoters around here, hosting shows almost every day. I used to be in another band that supported many of these collectives as a local act for the shows and I can tell they work hard.
The Bands To Watch Out For:
Alberto: Definitely Adrift and Trono de Sangre. Both great bands.
The Venues We Visited:
Alberto: I used to go a lot to a place called "Barracudas", I went to 40 shows there maybe. In fact, the sound guy of the venue recorded our first demo.
The Venues We Played:
Alberto: A place called Joy Eslava. We have played there four times and it's a great venue. We did plenty of sold outs there, something that makes us think "this is getting serious".
If I Wrote A Song About My Hometown:
Alberto: It would be something like "No matter where you came from, you'll be always welcome here. But please, don't bring your car with you, use public transport."
'Vortex' by Toundra is released on 27th April on InsideOut Music.
May
10th Hoxton Square Bar & Kitchen, London
12th Temple of Boom, Leeds
13th Nice 'n Sleazy, Glasgow
14th The Fleece, Bristol
Toundra links: Website | Facebook | Twitter | Instagram