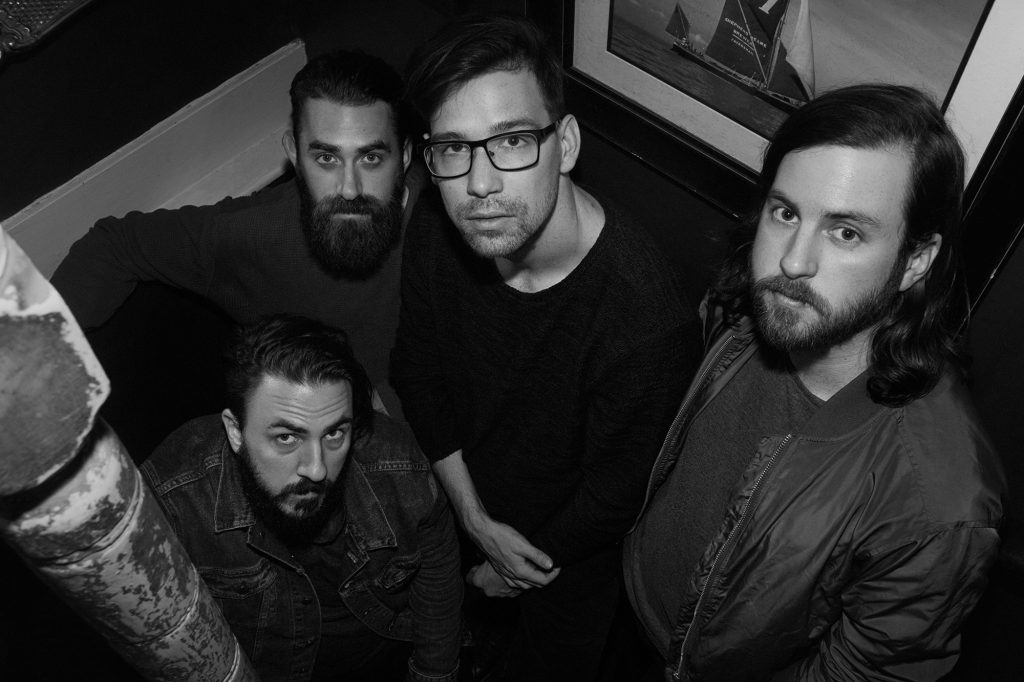 Since emerging in the late 2000's as a post-hardcore band, in recent years Tides of Man have gone through a transformation. By ditching their former skin, the quartet have become an instrumental post-rock band with mesmerising results. This week they return with their second instrumental full-length, 'Every Nothing'.
Over the course of almost an hour, it's clear Tides of Man have found purpose and confidence in delivering slow-burning soundscapes that overwhelm you. Tracks such as 'Mercury Fields' and 'Waxwing' tick off all the expected post-rock tropes with conviction. While 'Mosaic', 'Everything is Fine, Everyone is Happy', and especially 'Death is No Dread Enemy', capture the band's darker side with a brooding undertone.
With such an atmospheric, layered sound, it's somewhat surprising their hometown is more known for producing death metal bands. Nevertheless, Tides of Man call Tampa, Florida their home. And while names such as Deicide, Obituary, Cannibal Corpse, and Morbid Angel hail from the area, there's much more to "Cigar City". It's home to Florida's largest port, as well as Bayshore Boulevard which is said to be the world's longest continuous sidewalk at 4.5 miles long.
For those visiting Tampa, there are numerous attractions such as the Africa-themed Busch Gardens. While nightlife areas like Ybor City and Channelside have added to Tampa's reputation as one of America's best cities to party in. There's also the annual Gasparilla Pirate Festival, which is a major draw to the area, with over 400,000 attending every year.
To find out more about Tampa and what it has to offer, we spoke to Tides of Man guitarist Dan Miller.
The City:
Dan: Tampa, Florida. It's home and it's where I grew up. Overall it's got a lot of the attractive qualities of more trendy cities like an Austin, TX or Seattle but it's more affordable and has its own flavour.
Its People and Culture:
Dan: Tampa is probably most known for the Cuban influence. There are tons of amazing Cuban restaurants. The Cuban sandwich originated here. Tampa is also known as Cigar City because of the history of Cuban Cigar manufacturing throughout the 1900's.
The people are diverse. Whether you're into boating and fishing, or craft beer, or the beach, or going to live music events, you can find it here. Except for mountains. We don't have them.
The Music It Inspires:
Dan: I'm not sure, but one thing about Tampa is that it gets very hot for most of the year. And that makes people irritable, which may explain why we are known for heavy, aggressive music.
The Local Music Scene:
Dan: Metal is huge in Tampa. Cannibal Corpse is from the area. Underoath too.
Its Most Famous Musical Sons and Daughters:
Dan: My favourite bands from here are Polyenso and Goodnight Neverland. I wouldn't say either is very well known but they are both fantastic!
Its Unsung Heroes:
Dan: Jerry Dufrain owns the Orpheum which is one of our favourite venues in the area. He's always been supportive of our band and the Orpheum always has the best shows coming through town.
The Bands To Watch Out For:
Dan: Kerry Daniel Courtney is a great songwriter. And Brother Cepheus is a really rad band that is coming up.
The Venues We Visited and Played:
Dan: The aforementioned Orpheum is a big one. It used to be in a smaller space, and I saw some of my favourite bands there. Funny story, I saw Tides Of Man live for the first time there before I ended up joining the band.
The Orpheum has played a huge role in the band's career. Our first show was there, and we've played many other shows there since then. From the band's first tour to our album release show for 'Young And Courageous', it's been a staple.
If I Wrote A Song About My Hometown:
Dan: I think it would invoke a warm, sunny, nostalgic feeling. It seems appropriate. When I think of Tampa, that's the feeling I get.

'Every Nothing' by Tides of Man is released on 3rd August.
Tides of Man will be touring the UK this month, as well as appearing at the ArcTanGent Festival.
August
10th Cobblestones, Bridgewater
11th The Craufurd Arms, Milton Keynes
12th Mulberry Tavern, Sheffield
13th Birthdays, London
14th Joiners, Southampton
15th The Shed, Leicester
17th ArcTanGent Festival, Bristol
Tides of Man links: Facebook | Twitter | Instagram | Bandcamp