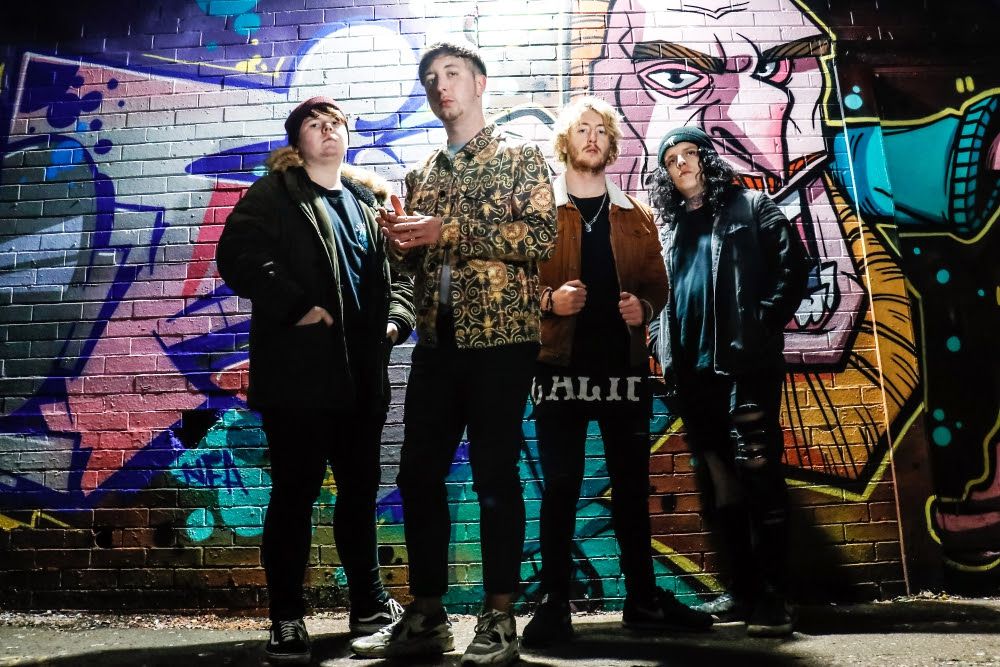 Since their formation five years ago, metalcore upstarts Scream Blue Murder have gone on to play on both sides of the Atlantic alongside a host of notable names; Bury Tomorrow, Crossfaith, Of Mice And Men, We Are The Ocean, Cancer Bats, and more. Earlier this month they returned with their second full-length – 'Rock Bottom'.
Packed with a wealth of riffs and melodic hooks, it solidifies the quartet's status as a promising breakout band. Their emergence follows a host of bands that have risen out of their hometown of Coventry. The West Midland city is considered the home of 2 Tone, the mix of ska, punk and new wave with local bands such as The Specials and The Selecter often being associated with it.
Away from its musical heritage, Coventry has links to Jaguar cars (check out the impressive Coventry Transport Museum), the penny-farthing bicycle, watchmaking, a rich sporting background, and is set to be the UK Capital of Culture in 2021. Nevertheless, it is its Cathedral which has put Coventry on the map. Initially damaged air raids during World War II, the remains now stand next to a new cathedral.
As a city, Coventry has had its fair share of ups and downs, yet as we learn from speaking to Scream Blue Murder vocalist Aaron Bloomer, it has a lot to offer and he's determined for b>SCB to be a shining representation of the city. Aaron spoke fondly about the city, its influential bands, and their local venue.
The City:
We're from Coventry. We have an exceedingly rare accent.
Its People and Culture:
Coventry is famous for a lot of things like that bird, Lady Godiva, and that absolute lad, Peeping Tom. We also got completely smashed up by the Germans during the blitz and we still have the ruins of the cathedral to show the history of it.
The Music It Inspires:
The Specials are from Coventry. They seem like absolute lads and their music is fun to get pissed to. That inspires us to get pissed. Fair play lads.
The Local Music Scene:
Indie because of those lads in The Enemy and Ska because of The Specials. It'll be known for rock n' roll soon because of your boys in Scream Blue Murder.
Its Most Famous Musical Sons and Daughters:
Silent Screams kick ass, they're also good lads. We have played with them a couple of times, and of course, us again because we're the worlds best. Other than that it's a ghost town (The Specials).
Its Unsung Heroes:
Us. We are on our way to hero-ism. Watch out 2019, we're coming at ya!
The Bands To Watch Out For:
Tell Me I'm Pretty are our boys. I grew up with the singer.
SuSons also. Absolute lads in the hip-hop scene. Kristol Bethel is our boy.
The Venues We Visited:
The Kasbah is the best venue in town! They've helped us get awesome shows with bands like Of Mice & Men, Crossfaith, Bury Tomorrow and many more! It's also the best place to get absolutely smashed to smithereens. We only play The Kasbah. Big up Kasbah.
If We Wrote A Song About My Hometown:
We'd probably write about the love, the hate, the good, the bad times and how the city has shaped us growing up. We're proud to be from where we have come from and are proud of our roots but now it's time to take over the world. Let's fucking do this!
'Rock Bottom' by Scream Blue Murder is out now on Stay Sick Recordings.