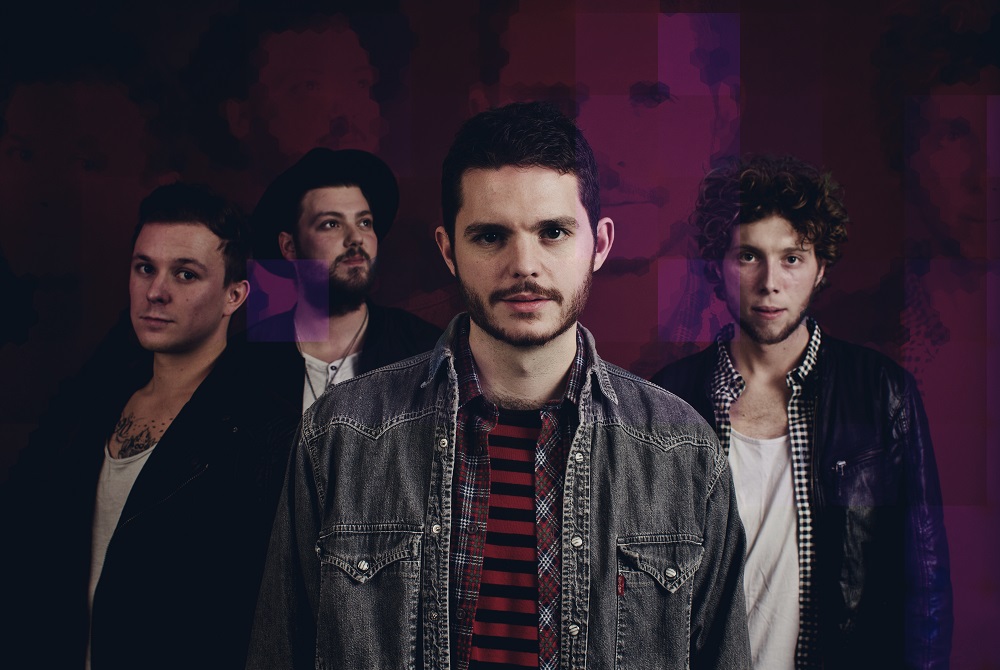 With their groove-filled riffs and straight up catchy hooks, Royal Mob sound like the perfect fit for the ever-burgeoning "Brit Rock" scene. However, the quartet aren't from these shores. While they consider a host of UK bands as key influences, it is the Danish capital of Copenhagen Royal Mob call home.
For the past three years, the band formerly known as M.D.R (Mojave Desert Rebels,) have been building their reputation in their homeland. However, with the release of their debut album, 'Cinematic', the quartet are setting the sights further afield. As songs such as 'Save You', 'Euphoria', and 'Snake' show, Royal Mob specialise in poppy hooks with a funk-esque element appearing throughout.
Their hometown of Copenhagen has been named the "happiest place in the world" and it's easy to see why. It's home to Tivoli Gardens – the world's second oldest amusement park with the first, 'Dyrehavsbakken', being located just ten minutes north of Copenhagen. Whereas 55% of its population tend to cycle to and from work along its 250 miles of bike lanes.
When it comes to tourist attractions, Copenhagen offers the original Carlsberg brewery, the Little Mermaid statue, Rosenborg Castle and more, including its lively jazz scene.
To learn more about what Copenhagen has to offer, we spoke to Royal Mob.
The City:
Royal Mob: We are a band from the Danish capital of Copenhagen, one of our absolute favourite cities. Seriously: If you have the chance, you should definitely visit!
Many things make Copenhagen awesome. It is a capital city in every sense of the word, but it isn't a "large" city when compared to the likes of London or Paris. It has a local and connected feel, and you can get anywhere you need to go by bike, on foot or using the robust public transport system. This local feel totally transfers to the underground music scene, which is characterized by enthusiasm, commitment and great companionship between the bands. It is not all about internal competition as in some other cities; instead, the bands support each other. We generally want to see each other succeed, and that makes the scene a huge enjoyment. Beyond that, there is just a crazy amount of good bands! Denmark is a tiny country, but it seems like everyone and his sister can play an instrument. So no matter the venue, you are bound to have a fantastic experience when going out to see music on a Friday night.
Its People and Culture:
Royal Mob: There is this saying about Danes: It takes a very long time to get a true Danish friend, but once you do, you have a friend for life!
Danes are inherently social, but they can seem a bit closed to outsiders. We don't have a very talkative public space and in public people keep to themselves. But if you are invited out to a bar or to visit a Danish home, you will be in for a very good (often drunk, humorous and talkative) time.
Copenhagen and the Danish people are known for a lot of things, but when one of your largest exports is beer, you know something is up. Danes love to party, and they love a cold beer. Copenhagen is filled with amazing bars, restaurants, dives and clubs, and when its Friday evening (or the sun actually decides to turn up, a rare sight indeed…) the entire city is buzzing with life and activity.
Copenhagen also has a lot of subcultures. While Danes may look the same, Copenhagen is actually a very diverse city, with all kinds of people and interests. And this especially shows in the music scene.
The Music It Inspires:
Royal Mob: The scene is very genre diverse. We have everything, from rap, jazz, pop through death metal and hardcore. There is a place for every musical genre.
The Local Music Scene:
Royal Mob: While our most famous contemporary acts are rock bands such as Volbeat, or singer-songwriters such as Lukas Graham and Medina, it would be very hard to genre-define Copenhagen. Some of our biggest up-and-coming names come from the metal scene, and internally in Denmark, rap and hip-hop is popular.
Its Most Famous Musical Sons and Daughters:
Royal Mob: One of our absolute favourite bands is Dizzy Mizz Lizzy. They are a huge inspiration and had a defining impact on the rock-culture in Copenhagen and Denmark. They have a huge sound, they are great at experimenting with different rhythmic and melodic approaches, and their lead singer is amazing. Their music has this vibe that just makes them inherently intriguing.
We are also big fans of Veto. They blend electronic, pop and rock in a very cool and progressive way.
The Bands To Watch Out For:
Royal Mob: Well, Royal Mob is a pretty damn great band, if we do say so ourselves…so they should be your first listen. Preferably many, many times. Tell your friends!
But we actually have a great many fantastic up-and-coming bands. Odd Palace is great; alternative, progressive rock delivered in an energetic and experimental way. Bands like MØL are taking the metal scene by storm, and we are sure you will be hearing a lot about Danish bands these next couple of years!
The Venues We Visited:
Royal Mob: Two venues spring into mind: Store Vega and Pumpehuset. Store Vega is one of the most famous venues in Denmark and playing for a sold-out Store Vega is a dream come true for any Danish musician. It has a great ambience: not too big, not too small, and you can really get a close-up feel for the musicians. There is nerve and an intimacy that challenges the bands to perform to their highest level, and that has been a great inspiration. You have to be on your game, and you have to be willing to completely connect with the audience, through both your presence and your music.
Pumpehuset is more of a venue for both up-and-coming acts and the bigger names. It is a great example of the genre diversity, with many distinctly different scenes that each offer something unique. Every kind of musical genre can be heard at Pumpehuset, and there is always a great concert just waiting around the corner.
The Venues We Played:
Royal Mob: Rust and High Voltage. Rust is the quintessential up-and-coming venue, in the heart of Nørrebro, a great burg in Copenhagen. It is a mix between a live-venue and a nightclub, and often you will have three or four bands performing per night. This means that you get to connect with a lot of other bands, see their performances and take inspiration from their sound and approach. It is a great place to get a feel for the underground music scene.
High Voltage is all about rock and stage performance! It's a place where you can draw in everyone in the venue, but people are also just out to drink and enjoy themselves. You have to be super present and you stagemanship has to be good and on-point. And if it is, you are rewarded with one of the most enthusiastic crowds in Copenhagen.
If I Wrote A Song About My Hometown:
Royal Mob: This is such a difficult question. Copenhagen has so many facets, and there are a lot of themes that would be interesting to explore.
The tune would definitely be melancholic; in part, because the weather is so consistently horrible for most of the year. But it would also be defiant, channelling Copenhagen's more rebellious and dreaming nature. The message would be about companionship and brotherhood; about how being a part of something greater, a community where everyone is in it together, makes us powerful and able to withstand whatever comes our way. And it would all be a little shrouded in mystery: In Copenhagen, and with Danes, there is always an interesting surprise waiting around every corner.
'Cinematic' by Royal Mob is released on 25th May on Prime Collective.