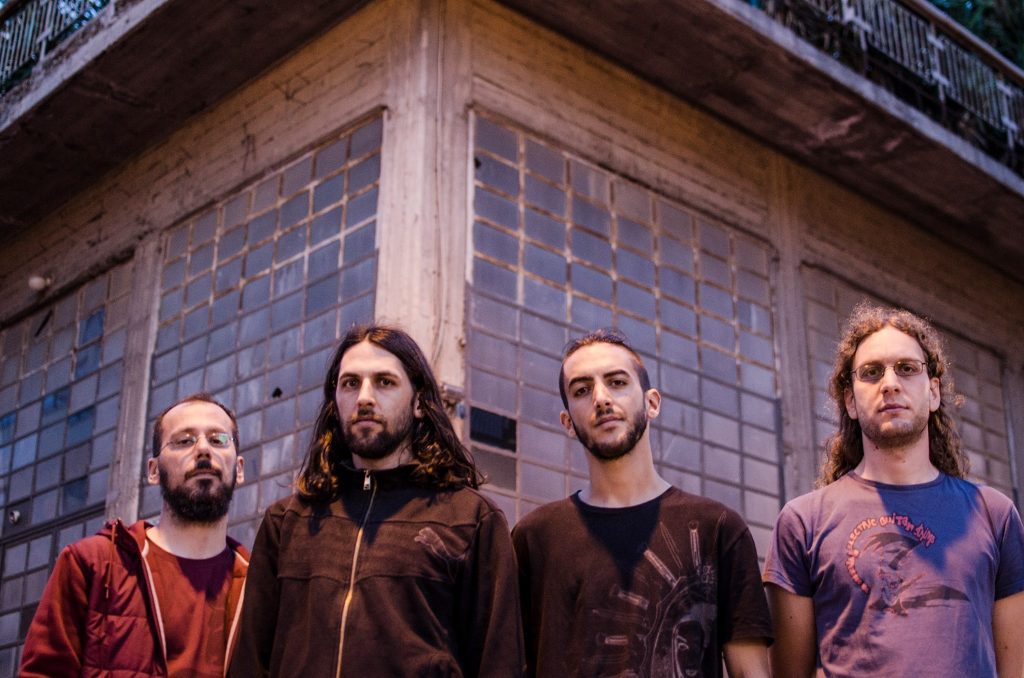 If you know your history, then you'll know Greece has plenty of it. Going back thousands of years, its cultural and political influence still remains having created the concept of democracy, the alphabet, the Olympics, the theatre, as well as developing mythology, and scientific and mathematic ideas.
At the heart of Greece's history is the city of Athens. Considered the oldest capital in Europe, dating back to 3000BC, it is home to some iconic landmarks such as the Parthenon temple and its ancient theatres. Its longstanding cultural history is still going strong, with progressive metal/rock Raw In Sect being part of its current music scene.
From their death metal beginnings, Raw In Sect have gradually become a promising metal band that isn't afraid to be inspired by their hometown's history. Their upcoming album, 'Kitro,' especially looks towards the past with its hints of traditional Greek music alongside confident prog-rock. While their recent single, 'Arena,' has been described a hymn about Athens, so it made sense to speak to Raw In Sect lead vocalist and guitarist Kostas Diamandis about the influence the ancient city has had on the quartet, its current music scene and more.
The City:
Raw In Sect was born in Athens although we are now scattered around the city. If we had to say we are proud about something related to Athens, it would be that the city never lacks character. It's one of a kind.
Its People and Culture:
Athens is mostly famous for being the cradle of western civilization as it has shaped western values like democracy, science, philosophy, logic among other things. People of modern-day Athens are very extrovert and are most of the time happy to chat with strangers.
The Music It Inspires:
There is a huge music scene in Greece. In general, that involves so many musical movements. We wouldn't know where to begin but let's just say that all aspects of western music are heard, then there are other aspects that are not found in western music.
The Local Music Scene:
There is always the traditional stuff like rembetiko or Vangelis' orchestral music. Now in the rock scene, the last years the city has produced several stoner rock bands.
Its Most Famous Musical Sons and Daughters:
Rotting Christ is an important band that has come out of Athens. They are important not only because they were among the first to experiment with black metal, they are also important because they paved the way for so many others so it's a band we have tremendous respect for.
Its Unsung Heroes:
A band that was formed years ago called Socrates Drank the Conium. They were meant for stardom but something interfered along the way and it didn't work out as it should. That doesn't mean that they are not among the best things to have come out from Greece. Also, another band called Sickening Horror had potential to become one of the greatest bands in the extreme sound.
The Bands To Watch Out For:
There are so many… Poem, Bazooka, Maplerun, Word of Life, 10Code, Order of the Black Jacket, Planet of Zeus are some.
The Venues We Visited:
Gagarin 205, Rodon, Petra Theatre, Rockwave Festival, An Club etc. These are the places we saw bands we were fans of for the first time and it was such an amazing experience. It definitely pushed us to find our own audience and do our own shows and relive that as performers which is of the reasons we are in a band.
The Venues We Played:
We have played from smaller venues like SixDogs or the Underworld to bigger places like Kyttaro and so on. It's really important for bands to play in all kinds of venues as a way to find their identity.
If I Wrote A Song About My Hometown:
It would be our latest single – 'Arena'. There is a lot of anger and aggression around it but also an undeclared love that comes towards the surface as the song progresses. This is probably how everyone feels about their cities.
'Kitro' by Raw In Sect is released on 6th July.
Raw In Sect links: Website | Facebook | Twitter | Instagram
---
If you have enjoyed reading this article and would like to help us produce more content and promote more great new music, please consider donating to our Patreon page.