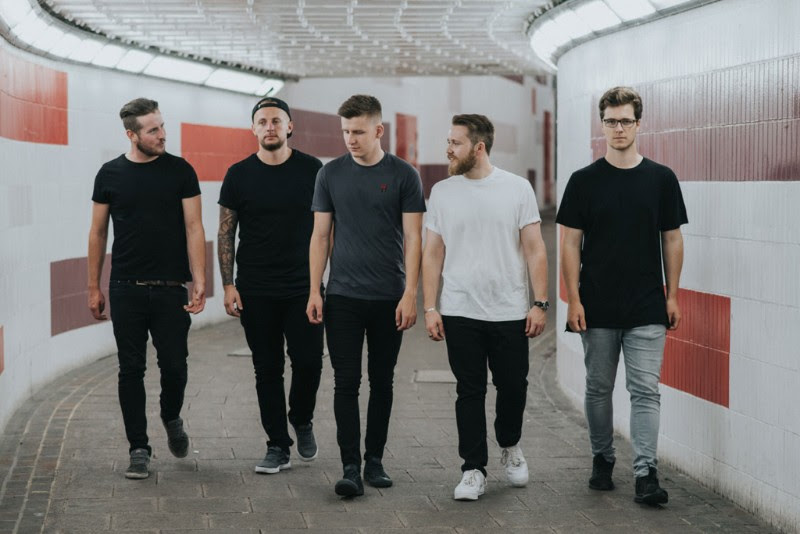 If you like your rock music to be gutsy, rip-roaring and catchy as hell, then Delayed Departure might just be for you. Putting together a wide range of influences that includes groups like You Me At Six, Architects and Lower Than Atlantis, the Farnborough-based band have a sound that's hard to pin down to one single genre.
They pack their songs full of unfiltered, smash-and-grab energy, with powerful vocal performances sugar-coating a meaty amount of thunderous guitars and pulsating drums, like on their new single 'Neon Lights' and older jam 'Oceans'.
While Farnborough may not be a town heavily associated with a history of bringing through alternative bands, it has had its fair share of famous few residents, with names singer Lily Allen, Kooks singer Luke Pritchard and actor Colin Firth – all of which attended school in the Hampshire town. Elsewhere, you can find the infamous French Emporer Napoleon III and his wife entombed in a crypt at St. Micheal's Abbey – if you're an avid fan of English history, that is.
We had a chat with frontman Mike Harland all about the place Delayed Departure call home. 
The City:
We are from the little town of Farnborough in Hampshire. There's nothing really to shout about, but I guess it has a good community of people, many that have contributed to the reason the Delayed Departure project exists.
Its People and Culture:
A bit of history for you, it is the place where the first jet aircraft was tested through the work of Frank Whittle and, because of its strong links with aviation in the second world war holds an air show every two years. Just to state, our name does not derive from this! Although, we wouldn't say it has any stand out traits as such, its just another small town in the UK.
The Music It Inspires:
There isn't really a music scene in Farnborough as such, however many surrounding areas do have thriving music scenes such as Reading and Guildford. Although, we do believe this seclusion from not being in a city has helped motivate us to make music. The types of bands are varied, to say the least, everything from heavy metal/rock, indie-rock/pop, to singer-songwriters and acoustic music.
The Local Music Scene:
As aforementioned, it's usually indie-rock and singer-songwriters, branching out into the surrounding areas of Guildford and beyond. You have institutes like ACM and so, the genres broaden.
Its Most Famous Musical Sons and Daughters:
Paul Weller was born in Woking, but in Farnborough, there actually isn't anyone we know of. Hopefully, we will add to that blank page soon!
Its Unsung Heroes:
You know, it's a tricky question because, as we've said, there isn't really anyone huge that have come out from our local music scene. Our buddies in StreetFight Silence and the band, Lucy T, would be two bands that have sadly disbanded but always put on an amazing show and definitely deserved to make it big.
The Bands To Watch Out For:
Not necessarily in our area, but they would have to be the dudes we're playing with for our EP release show on the 18th November, who are The Alchemy, Captives, and Elasea and, of course, our buddies in Veridian.
The Venues We Played:
There aren't any music venues as such in Farnborough. We used to have 'hometown' shows at the Sanctuary in Basingstoke before sadly it was closed earlier this year. However, now and again we would take over our local pub the Tradesman's Arms for a night of music that just brings all our families and friends together for a good old pub night.
If I Wrote A Song About My Hometown:
Probably similar to All Signs Point To Lauderdale by A Day To Remember… just kidding… Or are we?
'Your Colours' EP by Delayed Departure is out 19th October.