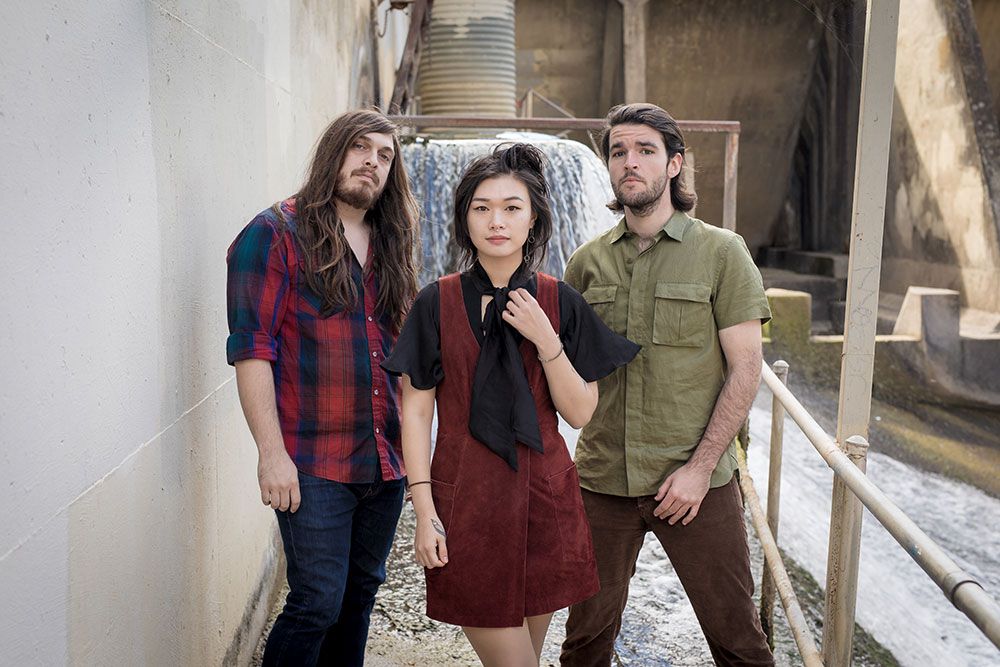 With their radiant, clean tones, instrumental trio Covet are set to stun crowds up and down the UK in the coming days as they join Polyphia on tour. As last year's LP, 'effloresce' shows, guitarist Yvette Young, bassist David Adamiak and drummer Forrest Rice effortlessly blend instrumental math-rock with elements of post-rock and post-metal, resulting in a juxtaposing mix of refined melodies with propulsive rhythms and captivating energy.
Throughout 'effloresce' there is a fluidity to what Covet do. One moment tracks like 'Shibuya' explode with a jazzy groove before 'gleam' send you into a hypnotic haze.
Although you can find them on these shores right now, battling the winter elements of the UK on their travels. It's considerably different to the city they call home – San Jose. Located in the centre of the Santa Clara Valley, on the southern shore of San Francisco Bay, "SJ", as David Adamiak refers to it, is known as the creative hub of the tech world, making it the most affluent county in California.
With a population of close to 1 million and extensive history, you're never short of things to do in San Jose. You can spend time at San Pedro Square or at SoFA, the downtown arts and entertainment district before going to watch NHL's San Jose Sharks or MLS' San Jose Earthquakes.
In addition, San Jose is the birthplace for a whole host of famous names and bands including Stone Temple Pilots, the late Tony Sly from No Use For A Name, Mötley Crüe's Nikki Sixx, Smash Mouth and erm, Screech from Saved By The Bell! Nevertheless, to tell us more about what San Jose has to offer, here's Covet's David Adamiak.
The City:
San Jose, CA. It is a very cosmopolitan city located in a region that has it all!
Its People and Culture:
SJ is most famous for being the birthplace of the tech industry and is the biggest city related to the "Silicon Valley". People come from all over the world to work and make babies here so people are generally hardworking, smart and driven.
The Music It Inspires:
SJ has so much different type of music, whether that be blues, jazz, classical or world, happening around town that many local bands and their music reflect that diversity.
The Local Music Scene:
SJ has a very strong connection with jazz, punk and experimental rock music and has produced some great artists over the years!
Its Most Famous Musical Sons and Daughters:
Lindsay Buckingham, Stevie Nicks, DJ Shadow and The Doobie Brothers are maybe the most notable.
Its Unsung Heroes:
Archaeologist and Floral!
The Bands To Watch Out For:
Floral and Elaine the Singer are sick. So is Superworld!
The Venues We Visited:
A popular venue was "Nickle City" which was a nickel arcade that sometimes had sick bands. I saw Tera Melos for the first time ever there in 2009.
The Venues We Played:
Bottom of the Hill and Slim's are two great venues that have always provided the ability for us to put on a show we are proud of! They have great stage sound and killer engineers/staff.
If I Wrote A Song About My Hometown:
It would be a song about the gratefulness felt towards the city's diversity and forward-thinking attitude.
---
Covet are currently touring the UK supporting Polyphia. Catch them on the following dates:
February
8th Rock City, Nottingham
9th Brudenell Social Club, Leeds
10th The Haunt, Brighton
11th The Fleece, Bristol
12th Electrowerkz, London
13th O2 Academy, Birmingham
'effloresce' by Covet is out now on Triple Crown Records.