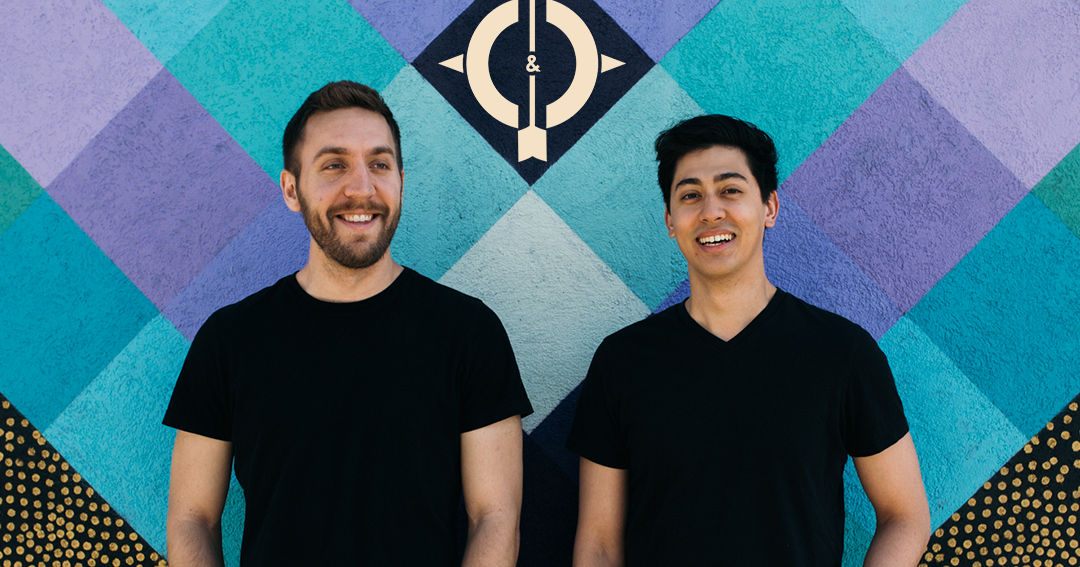 Indie-rock duo Compass & Cavern have been going strong under the radar for the past few years, making catchy, grabbing tunes since their inception in 2014.
With influences that draw on a wide range of sounds, from heavyweights like hard-rock heroes Foo Fighters and Queens of the Stone Age, as well as some more pop-related inspiration from acts like Twenty One Pilots and B.o.B. Across their 2017 debut album 'Before It Begins' and on recent single 'All We Have', the band display their inventive style, blending rhythmically fun pop-melodies with grinding, blurry choruses and hooky vocal lines.
The group hail from Denver, a city renowned for being Colorado's capital, located at the foot of the Rocky Mountains with some stunning surrounding landscapes and famous architecture. The city has given birth to a fair few famous groups too, with soul-funk legends Earth, Wind and Fire originating from the capital, as well as more recent indie groups the Fray and the Lumineers – so it's fair to say Compass & Cavern are in grand company.
We spoke to vocalist/guitarist Will Timbers and keyboardist Chris Fruci about all things Denver.
The City:
Chris: There are many things to love about this city. We have a vibrant and collaborative music scene and so many awesome big-name bands come through here on tour. But, I have to say that I brag most about our physical surroundings. The mountains are absolutely majestic and the weather is phenomenal. Everyone should move here – but actually don't because our traffic is getting worse.
Its People and Culture:
Chris: Denver is known for its close proximity to world-class ski resorts and incredible hiking and camping. The people who are drawn to the epic Colorado outdoors tend to be very chill which, I do think lends to a more relaxed, non-competitive culture overall. There are also breweries and dogs everywhere.
The Music It Inspires:
Chris: The Denver music scene is very collaborative and supportive which I think is a byproduct of the type of people who live here. As far as how the city influences the types of bands it produces. It's hard to say because there are many different genres of music well-represented here. I will, however, say that bands from Denver probably have some of the best album covers and band pics around because we can just zip up to the mountains and take pictures in the Rockies.
The Local Music Scene:
Chris: I'm not really sure to be honest! We've been in Denver five years now so are biased in thinking that alternative rock is especially big here, but I'm not entirely sure it's true. Great power pop, folk-rock, and singer-songwriters have been come out of Colorado in recent years and I've heard many people say we have a vibrant hip-hop and rap scene. But, it's hard to pin down a specific genre given that we've been in it for a while now and know great bands and musicians across all genres.
Its Most Famous Musical Sons and Daughters:
Chris: Denver has been the launching pad for many well-known bands across a variety of genres. The Flobots exploded with "Handlebars" around the same time that The Fray was one of the most popular bands on mainstream radio. More recently, The Lumineers made Denver their hometown and Nathaniel Rateliff & The Night Sweats blew up.
I'm sure I'm missing a bunch of names that should be called out here, but I think it's great that our city is able to launch different types of bands into the national spotlight. It doesn't make us feel like we need to conform to one type of sound to represent Denver well when we go on tour.
Its Unsung Heroes:
Will: Alf from KTCL 93.3! He's such an incredible supporter of local bands. He goes out of his way to put on events and shows for locals, promote new releases on the radio, and interact with every musician he can. Everyone I know appreciates him for what he does, and I've heard more than a few people say our scene wouldn't be what it is without him. They're right!
The Bands To Watch Out For:
Chris: Wildermiss is a fantastic indie rock band that recently toured with The Oh Hellos and is now playing every big event along the Front Range. The lead singer, Emma, has an incredible voice and the other bandmates are all very nice, genuine people.
One Flew West is another great alt-rock band that puts out very well-written, energetic music that gets the people going at live shows. We're joining them for a few Halloween cover shows next month where we will be playing a set of all Disney tunes. We also have to give a shoutout to our good buddies in the band, Creature Canopy. Cody and Joe are some of our closest friends in the Denver music scene and they put on such a great live show to go with their catchy pop rock bangers.
Will: He's not exactly up-and-coming, but Zach Heckendorf definitely deserves a listen. He originated in Denver, moved away for school, and is moving back in the next year. He's a good friend of mine, and one of the most impressive musicians I've ever seen, both from a songwriting and a performing perspective. He's more of a folk style than most music I listen to, but that's a testament to how well-written and universal his music is. I saw him live a couple weeks ago and I still have one specific lyric stuck in my head, and that never happens to me. I can't recommend him enough!
The Venues We Visited:
Will: I didn't go to many local shows growing up because I spent all the time I could at home or Qdoba (which is also home), but I did try to see the big names whenever I could. I distinctly remember seeing Rise Against at the Fillmore. I was in the middle of a mosh pit when my phone fell out of my pocket. When I tried to find it on the ground, a stranger near me noticed what I was doing and asked people around us to back up. I found my phone, and the crowd immediately went back to moshing. It was an unforgettable experience that, if nothing else, taught me that mosh pits can be full of kind, helpful people. That definitely changes the way you see aggressive crowds. I also saw Avenged Sevenfold at the Fillmore (maybe twice?), so I guess I basically just saw heavier bands at the Fillmore. I'm sure that encouraged me to headbang more at shows.
The Venues We Played:
Chris: We've been fortunate to play a bunch of venues in Denver thanks to our band friends who invite us to join them on bills and to the talent buyers who have given us shot after shot. The venue we've played the most is Larimer Lounge in the Rino neighbourhood which is an awesome 250 cap room. If you can pack the place from wall-to-wall, the energy is insane.
One of our favourite venues to play is the Bluebird Theater which looks, feels, and sounds incredible. I've seen a bunch of great shows there with some of my favourite bands so it is extra special to get to play on the same stage as those we look up to.
'Before It Begins' by Compass & Cavern is out now.