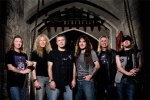 The Great War Display Team, a group of pilots which includes Iron Maiden vocalist Bruce Dickinson, have announced they will stage a spectacular 12 minute air display at this years Sonisphere Festival.
The group will take to the skies above Knebworth at approximately 6pm on Saturday July 5th. The display will commemorate the 100th Anniversary of The Great War.
Dickinson will join his band mates later in the evening as Iron Maiden will be headlining the main stage.
Further information on The Great War Display Team can be found here.
Sonisphere 2014 takes place at Knebworth Park from Friday 4th July to Sunday 6th July.