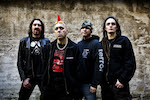 Veteran UK punk band The Exploited have announced two UK dates taking place in Glasgow and Manchester.
April
Saturday 26th – Scotland Calling at O2 ABC, Glasgow (with The Damned + Angelic Upstarts + Penetration + The Business + more)
May
Saturday 17th – North West Calling at The Ritz, Manchester (with Angelic Upstarts + UK Subs + The Business + Goldblade + GBH + more)
The dates will follow the re-release of three of the bands albums; 'Beat The Bastards', 'Fuck The System' and 'The Massacre' through Nuclear Blast on 17th March. Each release will be stuffed with bonus material and expanded packaging.