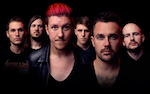 The Blackout have launched a Kickstarter campaign to fund a new EP titled 'Wolves'.
Since releasing their last album, 'Start the Party' last year, the Welsh rockers have parted ways with their label and management. As a result of this, they will be self-releasing 'Wolves'.
As always, fans (or "pledgers") who donate to the bands cause will receive a range of rewards in return.
Full details of the Kickstarter campaign can be found here, and 'Wolves' is set to be released in the Autumn.