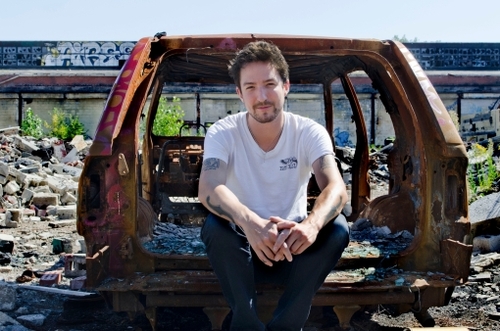 Having gatecrashed the UK album chart at number two this week with his latest album, 'Tape Deck Heart,' what better time to feature the one and only Frank Turner.
Since going solo following Million Dead's break up in 2005, Turner has toured relentlessly far and wide working his way from London pubs to selling out Wembley Arena. Along the way Turner has released five albums, a handful of EP's, compilations and splits and perhaps, most importantly, built a large, dedicated fan base that has supported him throughout the years.
With such a credible back catalogue to pick from Already Heard's Sean Reid, Tom Knott and Colin Henderson have taken on the difficult task of picking out just five of Frank's best cuts.
What are your favourite Frank Turner songs? Do you agree or disagree with our choices? Let us know on Facebook and Twitter.
Photosynthesis
Before seeing Turner at Leeds Festival in 2010, I hadn't paid much interest in his folk punk stylings. However, after watching his set by chance, it left a lasting impression and turned me into a fan.
Throughout the years Turner's live reputation has blossomed as his shows are engaging, upbeat and memorable. With 'Photosynthesis' its easy to see why. With its teenage angst, punk rock-like message of "And I won't sit down, and I won't shut up" combined with a joyful folk sound, Turner has created an anthemic number in 'Photosynthesis' that works brilliantly in a live setting. (SR)
The Road
I've always been a fan of Frank Turner; from his early days with Million Dead to when he started out on his acoustic singer-songwriter styling. One of the first times I saw Frank live was in Bar Bloc in Glasgow which was a far quieter affair than he's used to these days. I picked this song because firstly I really like it as a song, and it's just a great song that when it comes on, I'll turn the volume up.
But the main reason I picked this was because I remember hearing on Hollyoaks one evening (please don't judge me). But when I was watching it I heard this song playing and I remember thinking "bloody hell, that's Frank Turner on Hollyoaks, he's doing alright ain't he?" Hearing this song on mainstream TV took me right back to the time I'd watched him in a tiny bar in Glasgow and made me feel a real sense of pride inside.
Frank Turner's work ethic deserves a little mention because nobody can deny he has worked incredibly hard over the years to get where he is today. (CH)
Reasons Not To Be An Idiot
'Love, Ire and Song' is my favourite Frank Turner album, for me it plays so well from start to finish. Every song is great and I'm not exaggerating. This song is one of my favourites on this album and also one of my favourite Frank Turner songs to hear live. During Leeds Festival 2010 myself and a group of friends were watching Frank play the NME stage early in the day, but due to feeling a little worse for wear we opted to sit on the grass outside and eat ice cream. This song came on and I instantly felt better, I wanted to get up and dance and just have a great time.
Like I mentioned this song is one of my favourites and I do believe that music has that effect on you wherein it can really elevate you. When it came on I felt great and I was having a super great time. Who wouldn't be? We were eating ice cream, drinking warm lager and watching Frank Turner in the sun, what a perfect combination. The crowd inside the tent were having a great time too and Frank seemed to be absolutely buzzing from the reception he received.
Since that time, he's gone on to play bigger slots and even headline Wembley Arena, not bad really is it? For me though it'll always be that time at Leeds Festival that sticks out the most to me. (CH)
Nashville, Tennessee
Like many people, my first introduction to Frank Turner was as "the dude from Million Dead." Whilst not much, it was enough to persuade me to drag myself out one night, see him play a blinding set from a barstool, and then to buy his first solo-release, 'Campfire Punkrock.' That was seven years ago and since then I've revisited that EP many times over.
Its opening track, 'Nashville Tennessee,' has continued to hit me like an emotional train on each of these subsequent listens. A simple scale on an old guitar and a punk rock sense of honesty sets the song, the record, and, for the most part, Frank Turner's solo career from the outset. Whilst he's obviously become a considerably different beast relatively quickly (he tweeted this week, cyber tongue firmly in online cheek, regarding his current chart battle with Michael Bublé), Frank Turner is still very much the same guy who wrote this open-hearted, incredibly simple, self-effacing folk song all those years ago. Catchy, heartfelt, and with just a little bit of anger, 'Nashville' is still as perfect an introduction to a body of work now as it was at the very beginning. (TK)
I Am Disappeared
I find this song to be absolutely heart-wrenching. Every single time I listen to it I just want to go out and hug all of my friends, tell people that I love them, and do something spectacular with my life. The main album version of this track is a full band affair; twinkling keys, pounding drums, and driving bass give the song frightening emotional depth. But, as is the case with perhaps every song the man has written, nothing takes away from the simple folk rock and roll fire at the heart.
Undoubtedly my most mixtaped Frank Turner song, 'I Am Disappeared' features some crushing chord changes and sombre vocals that when combined create an absolutely astounding slice of music. The track is another example of Turner's arresting lyrics with each word perfectly chosen and nothing said at all if it isn't said in an utterly devastating manner. This is the kind of song that will find itself etched onto your heart and sang in your head long after it's done. Some of those chord changes alone are so devastating that they seem almost able to leave physical scars. (TK)
What are your favourite Frank Turner songs? Do you agree or disagree with our choices? Let us know on Facebook and Twitter.
Frank Turner links: Official Website|Facebook|Twitter|Instagram
Words by Sean Reid (SR), Colin Henderson (CH) and Tom Knott (TK)