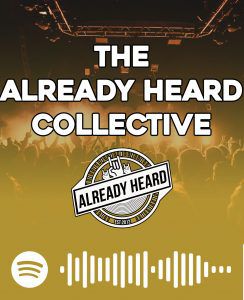 Late last year, we launched a new, standalone playlist called 'The Already Heard Collective'. The playlist consists of our personal favourites from the Already Heard team along with contributions from our Patreon supporters.
Today we've updated the ongoing playlist with songs selected by AH writers and Patrons.
You can support us on Patreon from just $1 a month (that's 77p for us folk here in the UK).
Here is what's new on 'The Already Heard Collective' playlist.
Sêan Reid
Holding Absence – Perish
A. A. Williams – Cold
Palm Reader – Swarm
Press Club – Headwreck

Andrew Davidson
Lotus Eater – Break It
Bitch Falcon – TMJ
Architects – Holy Hell
Sam Seaton
Old Man – Lizard Shark Attack
Edward Layland
Of Allies – In The Air Tonight
AFI – Break Angels
Kathyrn Black
Death Cab For Cutie – I Dreamt We Spoke Again
Enter Shikari – The Last Garrison
The Menzingers – Toy Soldier
Ben Mills
Trophy Eyes – I Can Feel It Calling
Bad Luck – Willoughby
Ian Kenworthy
Born of Osiris – The Accursed
Yonaka – Own Worst Enemy
Dylan Whitty
Thom Yorke – Unmade
Amenra – Boden
Mark Kozelek – You Are Not My Blood
The Armed – Fortune's Daughter
Baroness – The Sweetest Curse
---
Patreon Picks
Want to promote your band or have a song that you think everyone should here? As a supporter of Already Heard on Patreon, you can contribute songs to the 'AH Collective' playlist.
Crysta
Younger Hunger – Dead Inside
Goldblume – Husk
Darma – You're Always Right
Emma DeCorsey – Gold
John Allen
Thousand Oaks – A Simple Trick For Self Destruction

---