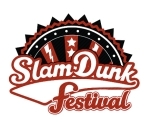 The first announcement for this years Slam Dunk Festival has been made with The All-American Rejects being announced as headliners.
Joining them will be Letlive., I Am The Avalanche, The Ghost Inside, Canterbury, The Devil Wears Prada, I Killed The Prom Queen, Crown The Empire, Caliban, Decade, Bury Tomorrow, Goldfinger, Zebrahead, Fandangle, H2O, Real Friends, and Neck Deep.
Tickets will go on sale Friday 14th February.
May
Saturday 24th Slam Dunk Festival North: Leeds University
Sunday 25th Slam Dunk Festival South: The Forum Hertfordshire
Bank Holiday Monday 26th Slam Dunk Festival Midlands: Wolverhampton Civic