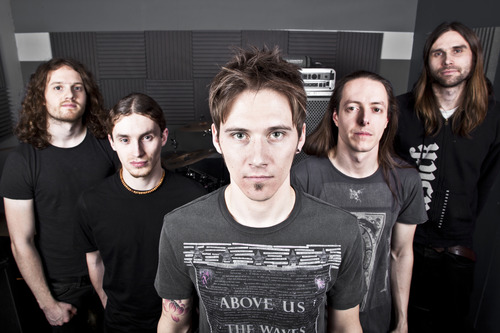 TesseacT have announced they will be releasing their first live album and DVD in early 2015 release through Century Media Records.
The release will include recordings from various shows. Whilst the bands show at The Scala in London will be filmed by Sitcom Soldiers for the DVD portion of the release.
Bassist Amos Williams made the following comment about the release:
"This is a very special moment in the career of TesseracT, we have in essence gone full circle with the return of Daniel Tompkins as our vocalist. There is an enthusiasm and energy amongst the band that we wished to capture for CD and DVD. So, we have been recording as many shows as possible on this tour in the hopes of producing a very best of live CD. Where we take one song from one show, say 'Nocturne' in Rome, and maybe 'April' from this year's headline set at Euroblast. It's very challenging both artistically and technically, but if any band can pull it off at this level, TesseracT can. If you're at a show on this tour, and you're singing along, you may well end up on the album! Alongside this we have planned to film our hometown show at Scala in London. This show has been sold out for months now, so we know it'll be intense. It will feature a light show run by our good friend Conor Vennard, with whom we have been working with for 2 years now. The show will be filmed by Sitcom Soldiers, who produced our last promotional video for 'Nocturne'. We are very happy to be working with Sitcom Soldiers again as they have the same enthusiasm for high quality as we do. And finally the audio for the whole project has been handled by 4D Sounds, meaning we should end up with a studio quality recording from a live scenario."
TesseracT begin a co-headline tour with Animals As Leaders next week.
November
3 Talking Heads, Southampton
4 O2 Academy 2, Birmingham
5 Sound Control, Manchester
6 Scala, London (Sold Out)
7 Cathouse, Glasgow
8 Rescue Rooms, Nottingham
9 Thekla, Bristol