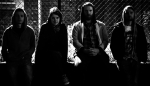 Bristol hardcore behemoths Svalbard are streaming new song 'Ripped Apart' from their upcoming collaborative LP with Pariso, produced by Lewis Johns. 
Pre-orders for the record are now available on the following labels: Tangled Talk Records (UK), Swarm of Nails (France), Through Love Records (Germany), Holy Ground Records (USA), and Smithsfoodgroup DIY (The Netherlands [casette]).
Click read more to listen to the song.