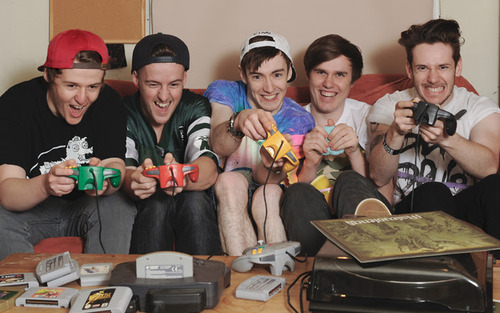 It's been quite some time since we hosted a Studio Report feature on Already Heard, but now it has returned. And for this edition we asked Hertfordshire pop-punks Trash Boat to document their time recording their debut EP – 'Look Alive'.
Having only formed at the turn of the year, the five-piece have quickly got down to work on their debut release, and were lucky enough to work with Neil Kennedy, who has previously worked with the likes of Don Broco, Our Time Down Here, Polar, More Than Life and more.
Trash Boat guitarist Ryan Hyslop took the opportunity to give Already Heard an insight into the making of 'Look Alive', which will be released 23rd June.
If you're interested in setting up a future "Studio Report" feature, please contact Sean Reid.
Once we had the majority of our EP written, with demos recorded, we started looking around at the vast array of studios, which we could possibly record our debut EP at. We were very fortunate to come across The Ranch Production House (in Southampton) as they had worked with many bands we liked, as well as having a great production quality. This led us to get in contact with Neil Kennedy who is one of the producers at The Ranch. We sent Neil the demo tracks over, and he was keen to get involved. We spent four days and three nights in the studio in the middle of February.
On the first day we managed to get all of the drums tracked, Oakley (Moffatt) smashed it, which was great and it left us the remaining three days to get all the rest done. With recording over we entertained ourselves for the night by watching numerous South Park episodes.
The second day was dedicated guitar and getting a fat tone. With the fat tone equipped, Dann breezed through all his bits, which took us to the end of our day recording. This day was the shortest of the lot, which gave us lots of time to watch even more South Park and play Skate 3. If you don't play Skate then you're so wrong!
With all rhythm guitar parts down, it seemed only logical to get the bass lines down on the third day. Dann (Bostock) had mentioned he had some nice bass lines written, but we weren't so sure. It seemed our luck was in as the bass lines were sweet and they added something extra to the EP, which we hadn't heard in any of our demos.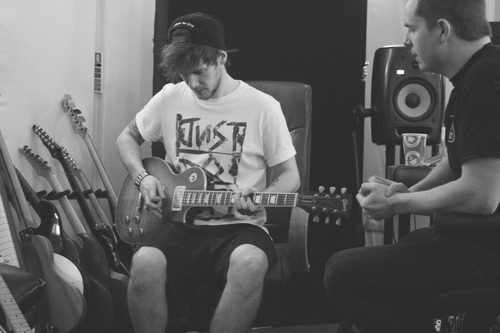 Whilst the bass was in full swing, Tobi (Duncan) slipped off to into hiding where no one could hear his ridiculous vocal exercises. Once the bass was sorted, Tobi took to the vocal booth where he laid down the first two tracks on our EP.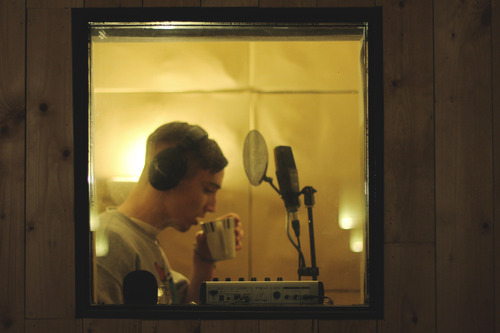 On the final day it was finally my turn to add the lead Guitar lines to the EP. This enabled us to really hear the songs properly produced for the first time. It sounded great and we couldn't be happier with how it was going.
With half the day left Tobi finished the two last vocal tracks to be done and then started adding harmonies in various places. There were no harmonies written before the studio, but Tobi took to the booth with the help of Neil and he seemed to nail all these improvised harmonies.
The day came to an end, as did our time at The Ranch Production House. We had a great four days and recorded an EP, which we are all incredibly proud of. We met some cool people down there and we can't thank Neil enough for his time!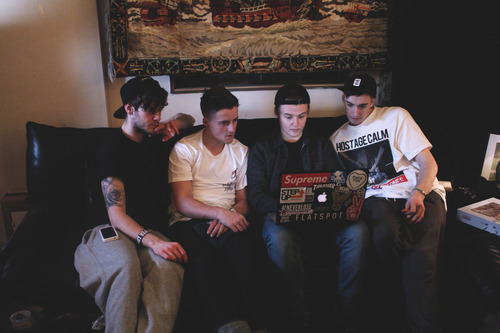 After receiving the final mixes back from Neil, we decided to get our tracks mastered by the myth that is Alan Douches. He really brought our tracks to life and we couldn't be happier with the end product.
'Look Alive' EP by Trash Boat is released on 23rd June.
Trash Boat links: Facebook|Twitter|Instagram|Bandcamp
Photo Credit: Abbie Smith Photography