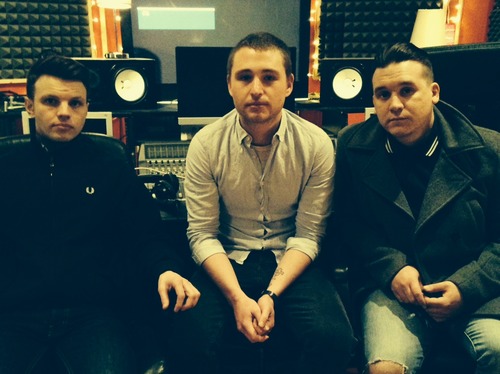 Cumbria punk trio Colt 45 are back with the second and final part of their "Studio Report" feature. The band have been working with producer Romesh Dodangoda on their debut full-length, which is set to be released through Visible Noise in May.
Week two sees the band working ahead of schedule and finishing off 'The Tide Is Turning' before they begin a run of UK dates.
If you're interested in setting up a future "Studio Report" feature, please contact Sean Reid.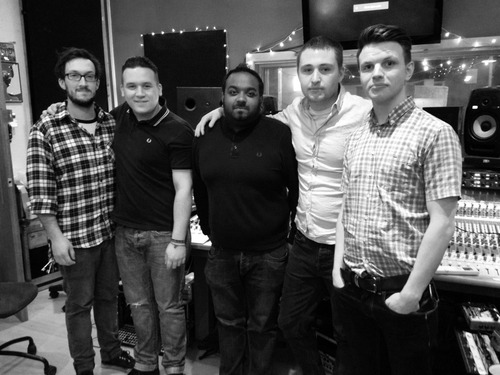 Week 2
Half-way point and we're ahead of schedule, with all drums, bass and a bunch of guitars tracked. We ventured for a night out in Cardiff with Romesh and his good friends from the Kids In Glass Houses camp and went to see what the Welsh capital had for us, which soon transpired was a hellish one-way traffic system and nowhere to park! We eventually made it round a few pubs and clubs which was a good way to relax after a few hectic days in the studio, and to hang out with Romesh outside of the sessions was a nice change. We then spent our day off (Sunday) by going for a drive to Porthcawl on the South Wales coast to revisit my youth (many a teenage summer was spent here with my Dad), and we enjoyed walking along the angry sea front and stopping to take some photos. All refreshed and relaxed we headed back in to the studio bright eyed and bushy tailed for week 2….
Day 6
A big coffee fix was needed all round this morning following our night out with Romesh and other than the sound of guitars being tracked, the control room was silent. Plenty to do however, and Neil bashed on with tracking lots of guitar layers whilst Gareth and I started looking at extra bits and pieces – harmonies, acoustic parts, post-production ideas. By the end of the day we had nearly all the guitar tracks completed, not bad at all. Now home to watch Metallica: Some Kind of Monster, what a hoot, was that serious?!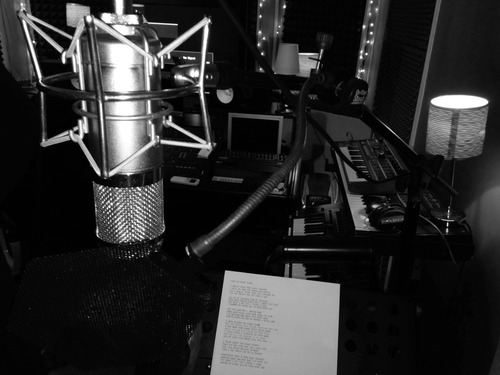 Day 7
We're making a start on vocals today. Gareth's new nickname – 'the coffee machine' is now in full useage throughout the studio due to his exceptional coffee-making skills, and the regularity of how often Romesh requests them. "Yeah I'd love one" has become the most-used phrase of the studio, always mouthed in Gareth's direction. Now that vocals are starting to go down, we can really hear an idea of how the album will sound when finished. Laying down his vocals quickly with his trademark growl, Neil was in fine voice and good spirits as we finished the day way ahead of schedule, with plenty time to look at backing vocal and harmony ideas later in the week. We're learning so many new things in the studio this time around, having more time than we're used to has really helped develop our understanding of good practice in the studio – something which will only stand us in better stead for the next time we're recording.
Day 8
More guitars and vocals today, Neil is really belting them out now. The guitars are pretty much all finished save for a few extras we'll do on the last day, so we can really concentrate on getting the vocals sorted now. This is one of the first things new listeners will relate to, so getting them right is a big deal for us. We spent a lot of time in rehearsal before coming to Cardiff, and the hard work has paid off – the structure and arrangements are stronger than anything we've ever done before, and lyrically it's becoming a much more positive record than our previous work. That said, there's still an undeniable element of frustration, but with a little more light at the end of the tunnel these days…
Day 9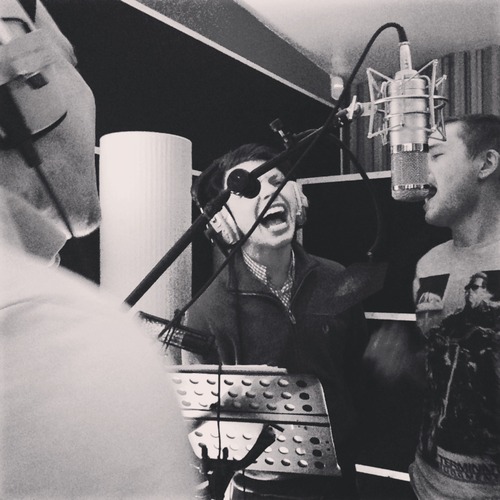 Whilst Neil kept going with vocals, I tracked some acoustic guitar parts which will be used to fill out a couple of songs – it may not even be very noticeable in the mix but will add another element to the right tracks. The acoustic parts went down very quickly, and we were then able to start looking at harmonies later in the day. This is one of the best things about working with Romesh – the man is a harmony machine, and he helped us find the best parts for some very big choruses! We all got involved with this part and it was a lot of fun in the smaller studio working on different ideas and changing little things on the spot – a really fun challenge. The mood is very relaxed as well because we know we've got a little bit of time to play with, so we can really focus on getting the best takes for the track, rather than rushing trying to get everything finished. Other than a blocked toilet (my fault), we're all good. Gareth eventually saved the day with an industrial-looking plunger and soon had it sorted…I wonder how many famous musicians in the studio have contributed to said blockage over the years…one for the memory bank anyway!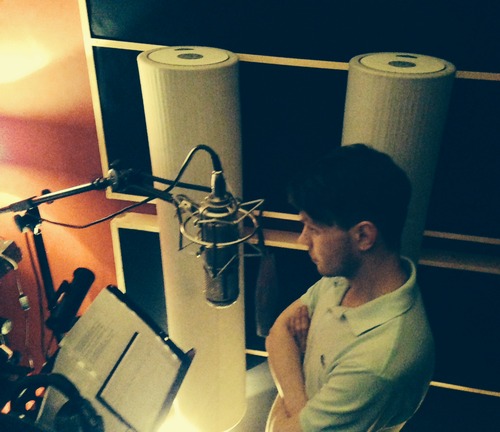 Day 10
Vocals all day, double tracking, re-tracking, just making sure we've got the very best out of each take. Gareth and I retired to the smaller room to talk tracklisting and song titles (all TBC in the coming weeks!), whilst Neil bashed on with some of the more challenging vocal parts. A steady supply of coffee, Lucozade, cigarettes and Greggs kept us going and by the end of the day (the penultimate session) we were finished, save for a couple of bits and pieces needed on the last day tomorrow. It's quite sad that tonight will be our last in South Wales (for a little while anyway) so we spent some time with the excellent Rob Thomas (Longwave Studios engineer) who lives very close to where we were staying on Barry Island. His dog Bruno, is a complete and utter dude…if you're ever near South Wales, look him up.
Day 11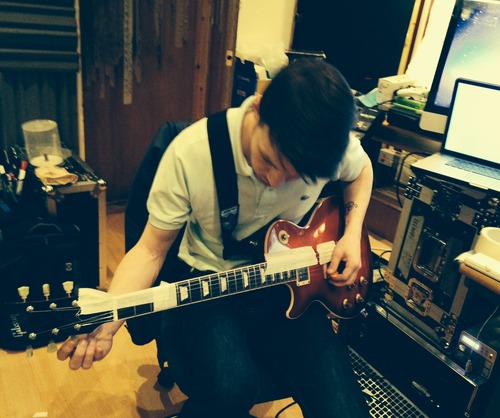 Last day! A few little things need doing – gang vocals, one or two harmonies and some feedback noises. We also went through each track to make sure we'd tracked everything we wanted to and to be ready for Romesh to start mixing after we'd left. We couldn't be happier with how the session has gone, whatever happens with this record, we've made one which we're very proud of and will enjoy listening to. We can't thank Romesh and Rob enough for all their time, skills and enthusiasm for COLT 45, we've made a record that we're incredibly happy with, and that's what it's all about.
The Tide Is Turning.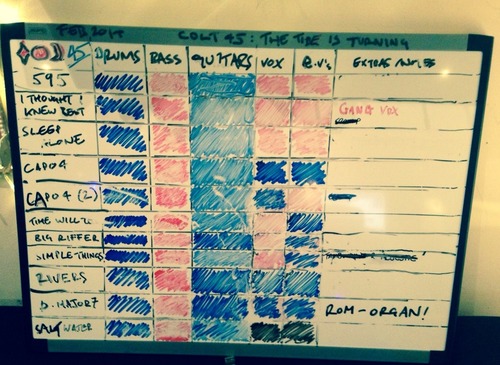 'The Tide Is Turning' by Colt 45 is set to be released in May on Visible Noise.
March
07 Gateshead – Black Bull w/ Electric River
08 Carlisle – Sands Centre w/ Electric River
11 Glasgow – Bar Bloc w/ The Hostiles
15 Lancaster – Yorkshire House
21 Lancaster – Yorkshire House w/ The Hostiles
22 London – New Cross Inn w/ The Hostiles
23 Manchester – Gullivers w/ The Hostiles
April
10 Kendal – Bootleggers
18 Bolton – Alma Rooms
24 Consett – Club That Rocks
Colt 45 links: Facebook|Tumblr|Twitter|Soundcloud