Today we're launching a new feature called "Studio Report". As you might of guessed, the feature sees us checking in with a band who are currently in the studio working on new material.
To launch the feature Cumbria punk trio Colt 45 have offered to give us a day-by-day account of their first week recording their debut full-length. They are currently recording with Romesh Dodangoda who has previously produced for the likes of Funeral For A Friend, Bullet For My Valentine, Kids In Glass Houses, The Blackout, and many others.
Colt 45's debut LP will be titled 'The Tide Is Turning' and will be released in May through Visible Noise. As we join the band for week one of their "Studio Report", we learn the trio and Romesh quickly get to work on putting the record together.
If you're interested in setting up a future "Studio Report" feature, please contact Sean Reid.
Week 1
We've been looking forward to returning to Cardiff to work with Romesh for months. Our previous visits have been amazing, if brief, and we were so pleased with the results heard on our debut EP releases (re-issued as 'Coughing Up Confessions' last year on Visible Noise). So he was the obvious choice when it came to deciding who was going to produce our debut album proper for the label. 'The Tide Is Turning' is released in May, and approaching the project with so much more time than we're used to has helped us relax and get the best out of ourselves and the songs. Romesh knows how we work, and we know how he works, it gels, and the sessions so far have been really enjoyable and laid back as a result. We can't wait for people to hear it! Here's what's been going down so far…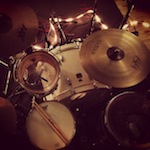 Day 1
The drive from Cumbria to South Wales is a pretty long one, we've done it many times, but it was nice to do it in half-reasonable conditions for a change. Despite all the flooding, we made it down fairly quickly in Fritz (our van), and got acquainted with our new home for the fortnight – a really nice ground floor flat just outside Cardiff near the sea. It's even got different colour LED lights in the hallway for Gareth to do his yoga on in the mornings. All settled in, down to business.
We had a good chat with Romesh about the record, went over some of the demos we'd done last year and played around with some new arrangements. Getting the right drum sound for the kit was easy enough as it usually is with Romesh and helped us get down to work quickly. We had to borrow a kick pedal due to a phantom squeak we couldn't find the source of, so the good people that are Kids In Glass Houses were kind enough to lend us a few extra bits and pieces for the session, thanks guys!
Sound and set-up sorted, it was time to track the drums. Having been rehearsing pretty relentlessly for the last few months, I'm pleased to say we got most of the main drum parts done really quickly, and left the first session with 6 tracks completed for drums. So far, so good.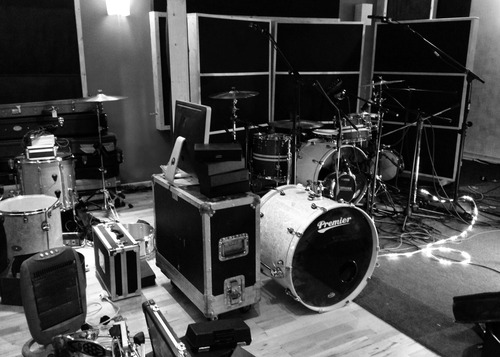 Day 2
Despite Neil's best efforts to wake the entirety of the Welsh valleys with his 6am siren-sounding alarm clock, we made it to the studio feeling pretty refreshed and ready for another busy day of tracking. The rest of the drum tracks went down without any major hiccups, and we worked together with Romesh to work on some different patterns and new parts, which I really enjoyed coming up with and tracking on the spot. It's really surprised me how quickly the drums have gone down – it can sometimes be a really long process, and less enjoyable as a result. This has probably been my favourite recording session anywhere ever, just because it was so much fun playing the parts and getting the best sound out of the drums – by smacking them very hard! It makes all the late nights and weekends of rehearsal seem much more worthwhile, and it's really pushed me a lot further musically than ever before – there's more pressure to really deliver with this album because it's the one we'll ultimately be judged by for the foreseeable future, so I wanted to do it right!
Drums complete, we started work on a bass sound for Gareth to get working on the next day. There's certainly more than enough gear kicking around Longwave Studios to choose from! Tools selected and sound achieved, we called it a night. Now the basic structure of the tracks is down – i.e. drums and rough guide parts, we can really start to hear how the album will shape, exciting times!
Day 3
Unbelievably, Gareth has managed to track bass parts to the entire album inside one day. Getting the sound right the night before made all the difference, so today we were able to just come in and go. It's worth saying again how much good practice does pay off in the studio, especially when tight budgeting is a primary concern. Joking aside, the bass sounds so good and even if he'd had a week to do it all I don't think we'd have got anything sounding better. Suitably smug about his day's work, he ordered me to make him a curry that night, which I dutifully obliged to, he did deserve it after all. Jalfriezi cooked, top awards given.
So that's all the drums and bass parts tracked for the album by the end of Day 3. That puts us nicely ahead of schedule, leaving 8 full days to track guitars and vocals, which will take the most time. Whilst Gareth and Romesh finished up some final bits and pieces on the bass sounds, Neil and I took a trip to the famous Cranes of Cardiff music store to get all of his guitars set up properly ready for starting work on the guitar parts the next day.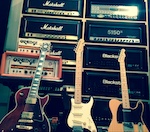 Day 4
Guitars, guitars, guitars. A long day of guitar tracking, which is actually one of my favourite parts of the recording process – working out how to layer all the different parts together and using different guitar and amp combinations. Neil knows his stuff and it was no surprise to find him gliding through a lot of rhythm parts once he'd worked out a variety of different sounds and options. By the end of the day, 3 packets of Jaffa Cakes and 40 Marlboro's later, we had the best part of 3 completed songs with guitars.
An evening of hilarity ensued as we watched documentaries about Anvil and The Stone Roses, we've got no worries about our strong Cumbrian accents anymore! Early nights all round, and Gareth polishing off his third bottle of red in as many days, ahem…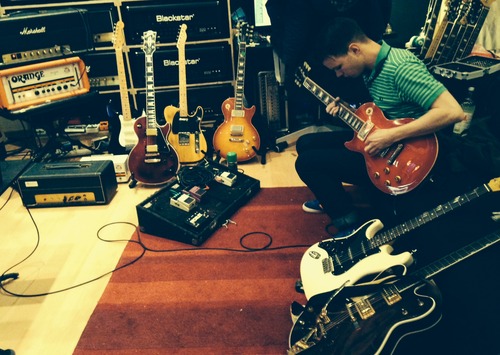 Day 5
More guitars! That's the order of the day for a few more I'd say. Although now we have a stronger understanding of which guitars and sounds will work on which parts of songs, so we can just get on with it. Our session chart is gradually getting filled in and becoming more colourful! Romesh is really into the new tracks, so we're working off a healthy amount of enthusiasm and good vibes in the studio heading in to the weekend. Rugby tonight, when in Cardiff…support Wales I guess.
'The Tide Is Turning' by Colt 45 is set to be released in May on Visible Noise.
Colt 45 links: Facebook|Tumblr|Twitter|Soundcloud