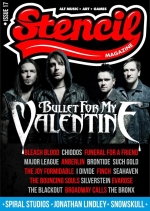 Our friends at Stencil Magazine have announced details of this years Stencil Mini Fest.
The free event will take place at The Smirnoff Bar in Chepstow on Saturday 28th July, and will be headlined by The Hotel Ambush and Forrest.
The Hotel Ambush
Forrest
Cardinals
These Days
Calling All Heroes
Medik
Deadmansugar
The Bleeding Process
I, The Lion
The Echo and the Always
Daedalus' Right Eye
Murder Circuit
Emmett Brown
Static Signals
Joe Lewis
Emma Hallows
Full details can be found on Facebook.
In additional news, the seventeenth issue of Stencil Magazine is now available online and features interviews with Bullet for My Valentine, Funeral For A Friend, Chiodos, Finch, Silverstein, The Bronx, The Blackout, The Bouncing Souls, Such Gold, Anberlin, Heaven's Basement, Broadway Calls, Brontide, Seahaven, Major League, I Divide, and many more.
Issue 17 of Stencil Magazine can be viewed here or by clicking read more.