Today we're launching a new feature called "An Essential Guide To…" As you can probably guess, the feature sees us giving you an all you need to know guide to some of the best and biggest bands around. 
We give you a detailed history on the band, rate three of their albums; For Beginners, For The Experts, and For The Bin, and give you an essential playlist.
To kick the series off we put the spotlight on World conquering, Los Angeles arena rockers Thirty Seconds To Mars.
Who Are Thirty Seconds To Mars?
Los Angeles rockers led by enigmatic frontman and sometimes actor, Jared Leto (vocals, rhythm guitar). Formed in 1998, the band's current line-up is completed by Leto's older brother Shannon on drums and Tomo Miličević who plays lead guitar.
Purveyors of an experimental approach to song-writing, their music incorporates progressive guitars and expansive vocals musically, and philosophically conceptual lyrical themes including most notably, space. Their passionate and adoring fanbase often refer to themselves as "The Echelon," although they reject name-tagging this as a 'cult,' instead preferring to think of themselves as a 'family'.
The band began as a small family project but the addition of Matt Wachter (now of Angels and Airwaves) and Tomo Miličević added some flesh to 30 Seconds to Mars bones. They released their debut, self-titled album in 2002 but it was the release of 'A Beautiful Lie' in 2005 that saw them scale new heights. Jared Leto directed the video for hit single, 'The Kill,' which depicted scenes re-enacted from The Shining and subsequently won an MTV Video Award in 2006.
After support slots with the likes of The Used and Linkin Park, 30STM completed their own headline tour worldwide, and featured prominently on a number of festival bills.
In 2008, Virgin Records filed a 30 million dollar lawsuit against the band, claiming that they refused to deliver three albums as required by its contract. However, the case was soon settled out of court and Jared and co. eventually signed a new deal with Virgin's parent company, EMI. Their third record, 'This Is War' was thus released at the back end of 2009 and the band soon embarked on a long-lasting tour of major arenas worldwide. For this they were recognised with a place in the Guinness Book of World Records for the "Longest Concert Tour by a Rock Band", playing a total of 309 concert shows in just over two years.
The band can also lay claim to being the first American rock band to shoot an entire music video in China ('From Yesterday,') and launching the first ever single from space – after a commercial copy of 'Up in the Air' was recently given its first public airing from aboard a NASA Space X Rocket.
Their new record, 'Love Lust Faith + Dreams' was released last month and the band will soon embark on a worldwide festival tour. They play Download Festival this coming Sunday (16th June.)
What they say:
"We always, from the beginning, had a super-passionate fanbase, albeit really small. It's very much a contained world. It's a lifestyle. I always found that when I loved bands, I was really involved. And I find that to be the case with a lot of people who are listening to us. They're either in a thousand per cent or not at all."
Jared Leto, Thirty Seconds To Mars.
"Shouldn't we have more rock stars like this? Shouldn't every album be a leap of faith, a test of wills, a risk of considerable magnitude? Isn't that how great art is made? Jared Leto gets a lot of crap, but really, he just might be the most driven, focused and downright fearless rock star I've ever met. And his band, much derided and long ignored, are the same way: down in their studio, while no one was looking, they've been slaving away with no real end in sight, working on a deeply personal, completely unspoiled piece of art."
James Montgomery, MTV.
For Beginners… 'This Is War'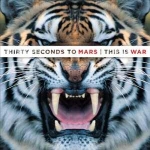 It is perhaps this record, more than any other that cemented 30 Seconds To Mars as heroes to an adoring young fanbase. A tamer beast than its explosive predecessor – despite its title – 'This Is War' saw 30STM return to the prog-driven rock that defined their debut release. Having negotiated their way through a legal battle with their previous record label, they soon reconciled with them to release a record that would see them make the transition from mid-sized venues to truly massive arenas. There can be no better introduction to the band's evolving sound than an album that confirmed their place among the greats of modern stadium-rock.
For The Experts… 'A Beautiful Lie' 
At first glance, 'A Beautiful Lie' could be seen as a great starting point for any music fan wanting to know more about the Los Angeles rockers. After all, it contains some of their biggest hits – arguably, their biggest in the form of 'The Kill (Bury Me)' and its award-nominated video. But despite all that, I would argue that it is a less accessible 30STM release than those that came after. Granted, it contains their best work – 'From Yesterday' and 'Battle of One' deserve standout mentions – but its true rewards can only be reaped after repeated listens . The unrelenting aggression that Jared Leto displays throughout showcases his persona at its energetic, explosive best but unlike the record's successors, 'A Beautiful Lie' never descends into a one-man show. It is a truly great example of what this band is capable of.
For the Bin… '30 Seconds To Mars'
Some die-hard fans of the band would have filed this record under the 'for experts' column but truth be told, 30STM were very much still honing their craft at this point. Despite their short-lived history, the band's sound at this time was as experimental as it has ever been. Unfortunately, much of the album is found wanting. A concept album that focuses on human struggle and self-determination, this record was the band's admission into the industry, but mainstream success would have to wait a few years yet.
Essential Thirty Seconds To Mars Playlist
'Capricorn (A Brand New Name)' taken from '30 Seconds to Mars'
'Attack' taken from 'A Beautiful Lie'
'From Yesterday' taken from 'A Beautiful Lie'
'R-Evolve' taken from 'A Beautiful Lie'
'Battle of One' taken from 'A Beautiful Lie'
'Kings and Queens' taken from 'This Is War'
'This Is War' taken from 'This Is War'
'Closer to the Edge' taken from 'This Is War'
'Vox Populi' taken from 'This Is War'
'Up In The Air' taken from 'Love Lust Faith + Dreams'
Listen to our Essential Thirty Seconds To Mars Playlist on Spotify or view on Youtube.
Thirty Seconds To Mars links: Official Website|Facebook|Twitter|Youtube
Words by Christopher Smith (@chrissmith_catp)