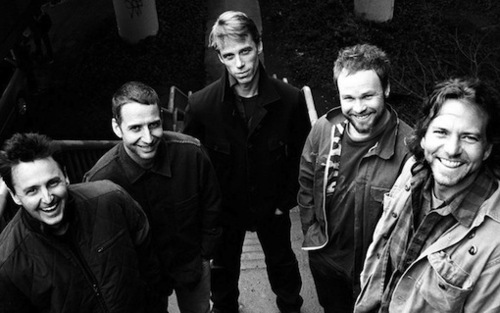 Who Are Pearl Jam?
Seattle grunge legends. Formed in 1990, founding members Eddie Vedder (Vocals), Jeff Ament (Bass), Mike McCready and Stone Gossard (Guitars) have been with the band ever since. Drummer Matt Cameron – formerly of Soundgarden – took over stick duties in 1998.
Pearl Jam were born out of the Seattle grunge scene and – alongside Nirvana and Soundgarden – are considered stalwarts of the movement itself, which exploded into life in the early '90s. In spite of their strong refusal to adhere to traditional music industry practices, the band have outlasted and outsold other bands associated with that period of rock 'n' roll history, and are now one of the most commercially successful bands of all time.
Pearl Jam played their first ever show in October, 1990 and within months were signed to Epic Records. Their debut album 'Ten' was released in August the following year. Their most well-known record, it dealt openly with dark subject matters such as depression, suicide and loneliness. Sales were slow until the latter part of 1992 when grunge finally took off but 'Ten' eventually spent two years on the US Billboard Charts and has since gone thirteen times platinum. The band were poorly treated by the music press during this period. However, their most vocal critic was Kurt Cobain who, presumably threatened by the band's challenge to Nirvana's crown, argued that Pearl Jam should not be bracketed as an 'alternative' band because 'Ten' contained so many melodies.
The band grew increasingly uncomfortable with the level of success they had attained in such a short space of time and the subsequent backlash this caused. They became increasingly difficult to work with, refusing to give interviews and snubbing the use of music videos to accompany their songs. Vedder felt that the concept of music videos robbed the listener from creating their own interpretation of the song, arguing that it robbed them of self-expression. But their most famous spat was with Ticketmaster, who the band became upset with after learning that the ticketing giant had added a service charge to tickets sold for their concerts, tickets that the band wished to price as low as possible. Because of Ticketmaster's monopoly, the band resorted to the creation of a series of outdoor venues at which they could perform.
Their sophomore album 'Vs', set the record for most copies of an album sold in its first week of release and amid ongoing tensions within the band a third record, 'Vitalogy' soon followed. Founding member of the Red Hot Chilli Peppers, Jack Irons, soon replaced Dave Abbruzzese on drums, making him their fourth sticksman in as many years. Two more records, 'No Code' and 'Yield' cemented the band's place at the forefront of alternative rock, before Irons left the band to be replaced by Cameron in 1998.
The band have always been known for their intense live performances (many people credit them with being the first band to actively encourage crowd surfing en masse) but this reputation would soon come back to haunt them. A European tour in 2000 ended in tragedy when nine fans were crushed to death during a Pearl Jam set at Denmark's Roskilde Festival, an incident which led the band to boycott festival shows until 2006 when they made a triumphant return at the Reading & Leeds Festivals. Eddie Vedder was seen to be visibly emotional but fighting back tears, he pulled through.
The intervening years were spent supporting political causes close to the band, and they were particularly outspoken in their condemnation of the decision to go to war in Iraq, courting intense controversy in the US when Eddie Vedder impaled a rubber mask depicting George Bush on his microphone stand at one of their stadium shows. They have now released four albums since the turn of the century, as well as a Greatest Hits and a series of live recordings. A fifth record of original material, 'Lightning Bolt', is to be released this month.
What they say…
"I think at some point along the way we began feeling we wanted to give people something to believe in because we all had bands that gave that to us when we needed something to believe in. That was the big challenge for us after the first record and the response to it. The goal immediately became how do we continue to be musicians and grow and survive in view of all this… The answers weren't always easy, but I think we found a way." – Eddie Vedder, Pearl Jam
"Instead of selling out with videos and constant press coverage, they pulled back at their height, and focused on the music. They belong up there with Neil Young, Zeppelin and The Beatles because they never compromised their integrity, which is really all any of us have." – Willie McNabb, USA Today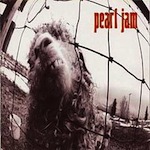 For Beginners… 'Vs.'
Pearl Jam's sophomore record is consistently great. Given the success of its predecessor, the ballad-friendly 'Vs.' was written at a time when Pearl Jam were learning to deal with the trials and tribulations of being suddenly thrust into the spotlight by the music press: they were arguably the biggest band in the world at the time. But, boy did they deliver. Whilst other records contain at least some filler, 'Vs.' is a steady and dependable record that also happens to contain many of the band's best songs. It saw the band nail down the quiet/loud dynamics that makes them such a worldwide favourite, and represented the band at their peak.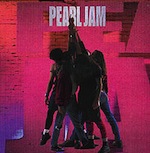 For Experts… 'Ten'
Other than Nirvana's 'Nevermind', no album encapsulates the spirit of grunge more than 'Ten', Pearl Jam's debut album: an album that established a hard-rocking blueprint for over two decades of success. One of the decade's defining LP's, it's hard to convey just how important a record this was, and still is. A serious, yet soulful album, it contains many of Pearl Jam's most loved songs, ones that still raise a smile today, and it's incredible to think that much of the record was written in the band's formative weeks. Some might argue that 'Ten' – their best-selling record – provides the perfect introduction to everything Pearl Jam, but let us not forget that part of this album's great success at the time can be attributed to the fact that it can be, at times, a challenging listen. Lyrically morose, sonically hard-hitting, this record is teeming to the brim with songs that pack one hell of a punch.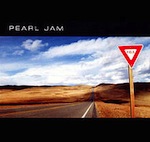 For the Bin… 'Yield'
Pearl Jam have never written a bad album in my humble opinion but they've certainly endured some difficult periods down the years. This record was meant to signal a return to the band's riff-heavy roots but in fact, the record heralded an era of further experimentation for the band, although the song-writing process was no longer guided by Eddie Vedder's totalitarian-like grip. 'Yield' feels like a record written by a band not sure whether they are coming or going, unsure whether to embrace their commercial status or veer leftwards into deeper, darker territory. Sick of fighting Ticketmaster, sick of fighting their record label, Pearl Jam wrote a wonderfully frustrating record, refused to promote it, and headed off to tour the world instead.
Essential Pearl Jam Playlist
'Once' taken from 'Ten'
'Alive' taken from 'Ten'
'Jeremy' taken from 'Ten'
'Even Flow' taken from 'Ten'
'Black' taken from 'Ten'
'State Of Love And Trust' taken from 'Singles'
'Dissident' taken from 'Vs.'
'Rearviewmirror' taken from 'Vs.'
'Daughter' taken from 'Vs.'
'Animal' taken from 'Vs.'
'Corduroy' taken from 'Vitalogy'
'Spin The Black Circle' taken from 'Vitalogy'
'Given To Fly' taken from 'Yield'
'Save You' taken from 'Riot Act'
'Life Wasted' taken from 'Pearl Jam'
'World Wide Suicide' taken from 'Pearl Jam'
'Comatose' taken from 'Pearl Jam'
'Severed Hand' taken from 'Pearl Jam'
'The Fixer' taken from 'Backspacer'
'Unthought Known' taken from 'Backspacer'
Listen to our Essential Pearl Jam Playlist on Spotify.
Pearl Jam links: Website|Facebook|Twitter|Youtube
Words by Christopher Smith (@chrissmith_catp)