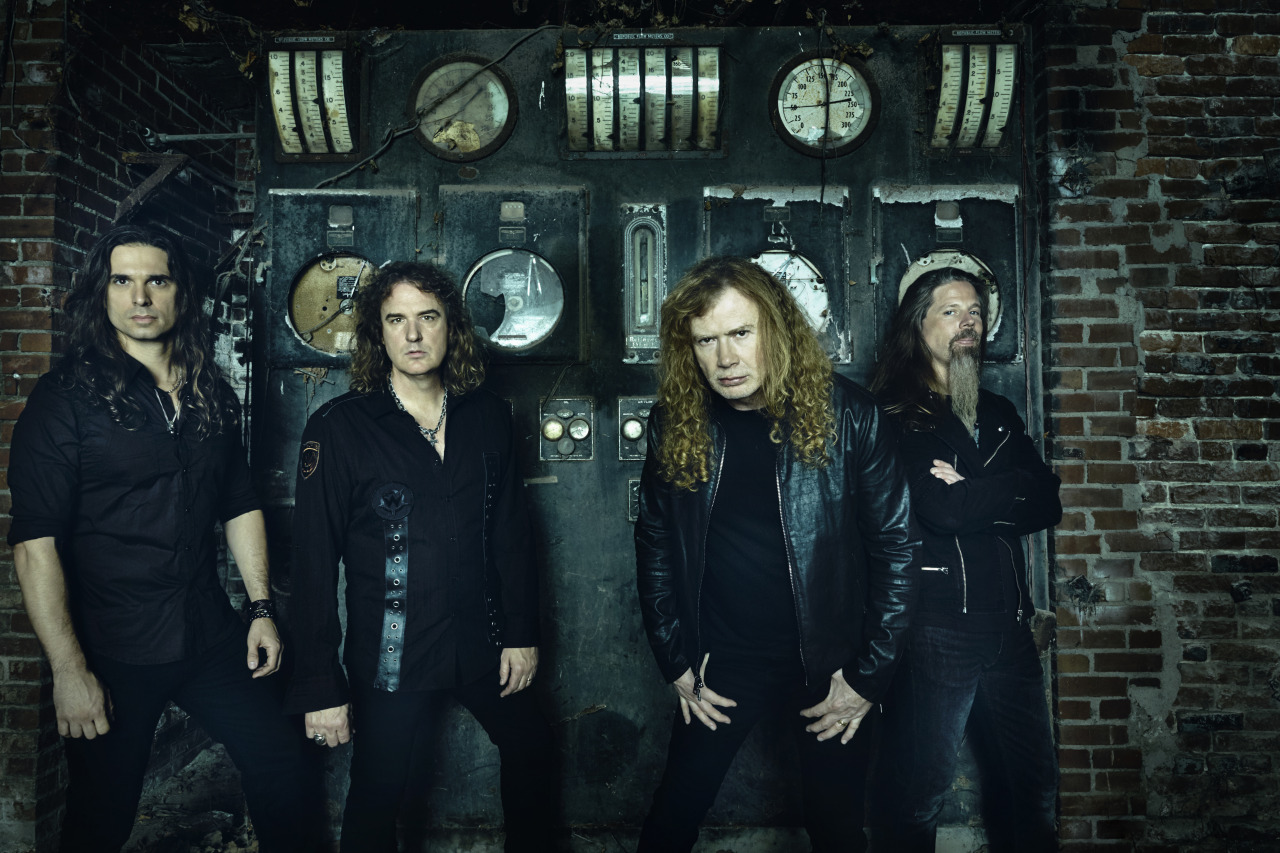 After a far too long absence from this site, today we're bringing back our "Starter Pack" feature. Just as the title suggests, "Starter Pack" is a beginners guide to some of the biggest and most influential bands in rock, metal and punk history.
In this edition, Already Heard writer Edward Layland gives you an all you need to know to thrash metal titans Megadeth. With their fifteenth studio album, 'Dystopia' set to be released this week, Edward tell us about the bands history, what albums you need to hear and to avoid, as well as an essential playlist to give you an introduction to Dave Mustaine and company.
Who Are Megadeth?
On the morning of April 11th 1983, the other three members of Metallica woke Dave Mustaine, told him he was fired and put him on a bus to make the 96 hour journey back to San Francisco from NYC without a penny in his pocket. The perpetually angry guitarist was not happy, and if Megadeth's rage filled music is anything to go by, he stayed pissed for a pretty long time! Following his dismissal Mustaine soon hooked up with bassist Dave Ellefson to form the nucleus of what would become one of the big four thrash bands, albeit with revolving doors to the position of drummer and lead guitarist.
Megadeth's sound was built on technical proficiency and complex arrangements whilst also aiming to play harder and faster than Metallica. As such, their crudely engineered debut album, 'Killing Is My business…and Business is Good!', was seen as raising the bar in the fledgling genre of thrash metal, quickly gaining an underground following and attracting major label attention, which back in 1985 was sure to lead to bigger things. This is precisely what happened; second album 'Peace Sells…But Who's Buying?' boasts far superior production, as well as greater sophistication in terms of songwriting, with politically minded lyrics and technical excellence. The title track went on heavy rotation on MTV and extensive touring with the likes of Alice Cooper soon saw Megadeth climbing industry ladders and enjoying the accompanying excesses of the rock n roll lifestyle. How they survived personnel changes and serious substance issues to get themselves together to record third album 'So Far, So Good…So What?' remains a mystery. The fact that it contains a number of classic tunes like 'Hook in Mouth' and 'In My Darkest Hour' and only served to enhance the band's reputation, despite the "muddy" production, is testament to Mustaine's talents as a composer.
More high profile touring followed, but the heady combination of Mustaine's ill temper, drugs, alcohol, more drugs and paranoia were leading to more personnel changes, arrests and forced rehab. It was to universal surprise that Mustaine emerged not only sober but reinvigorated in 1990 to put together Megadeth's classic line up; giving drum tech Nick Menza a full time position and securing the services of virtuoso guitarist Marty Friedman, who would record with Mustaine and Ellefson until the late 90s.
1990 saw the release of 'Rust in Peace', their most critically acclaimed album, featuring the barnstorming 'Holy Wars…The Punishment Due' and a host of furiously fast complex tracks considered a tour de force in the world of heavy metal. Megadeth were now following Metallica into the mainstream on the back of the album's success, but it was the 1992 follow-up, 'Countdown to Extinction', that sent them stratospheric – the album entered the billboard charts at number two, country superstar Billy Ray Cyrus keeping them off the top spot. But Dave still wasn't happy. Metallica continued to be the bain of his life and only a number one record would be enough. So, the already melodic tendencies of Countdown were explored even further on two strong but underrated records in 'Youthanasia' and 'Cryptic Writings' but pushed the band into cringe territory with the hard rock offering of 1999's 'Risk'; none of which made number one.
The band's history is one of turbulence since the break up of the classic line up; constant personnel changes – Ellefson even left for a few years – a hiatus resulting from a bizarre arm injury and drug relapses. However, Megadeth have managed to maintain a steady stream of successful albums and live appearances. After the 'Risk' fiasco, Mustaine vowed to return to his speed metal roots and began moving in the right direction with 'The World Needs a Hero' (2001), while 2004's 'The System Has Failed' was celebrated as a return to form. 2007 saw the release of 'United Abominations', a truly old school metal album, which stands up alongside earlier material. 'Endgame' (2009) and 'Thirteen' (2011) maintained the consistency, but 2013's 'Super Collider' was universally panned; Mustaine's trademark snarling vocal seemingly absent from the generic sounding songs.
Nevertheless, reinvigorated by the temporary help of Lamb of God drummer Chris Adler and Angra guitarist Kiko Loureiro, and being creatively inspired by the death of Slayer guitarist Jeff Hanneman, Megadeth seem to have returned to form once more on new album 'Dystopia'. Whatever the case may be, with multiple Grammy nominations and album sales running into the millions, there is no denying the stature of Megadeth as one of the truly great thrash metal bands; as Chris Adler puts it: "For me and my brother (LoG guitarist Willie Adler), that's the band that made us wake up to heavy metal and made us become who we are today."
The Essential Album: Countdown to Extinction
'Countdown to Extinction', the most commercially successful Megadeth album, entered the billboard charts at number 2 and is the second to feature the fan favourite line-up of Mustaine, Ellefson, Friedman and Menza. The politically charged record builds on the frenetic excellence of 'Rust in Peace', adding a dose of melody and refined pace to the Megadeth brand of speed metal.
As well as the more well-known tracks like the majestic 'Symphony of Destruction', highpoints include 'Foreclosure of a Dream', with its killer chorus, blazing solo and machine gun riffing, and the autobiographical 'Sweating Bullets'. The award winning 'Countdown to Extinction' also stands out; eloquently tackling the issue of animal rights in a superbly constructed mid-paced song that ebbs and flows with exceptional work on the guitars from Mustaine and Marty Friedman.
Moreover, from the classic metal riffing of tracks like 'Architecture of Aggression' and 'Skin 'O My Teeth' to the atmospheric intricacies of the epic 'Captive Honour' the guitar work is fantastic throughout.
Although it lacks the speed and weight of earlier recordings, it is as if Megadeth found the perfect balance between their signature sound and melodic tendencies to make a killer record accessible to all.
For the Die-Hard Fans: Peace Sells…But Who's Buying?
1986 was THE year in Thrash metal; Slayer´s 'Reign in Blood', Metallica´s 'Master of Puppets' and Megadeth´s 'Peace Sells… ' were all released and each was the album by which the rest of their careers would be measured. Although 'Rust in Peace' is the better album and 'Countdown..' the most successful, 'Peace Sells..' defined the Megadeth fan base.
'Peace Sells..' saw them make a gargantuan leap from the rough thrash of their debut to slickly executed politically minded compositions of lightening paced metal, whilst also adding atmospheric touches and the occasional killer hook.
From super fly soloing on 'Wake Up Dead', past locomotive riffing on 'The Conjuring', the classic title track and on to the riotous Devils Island, the record builds intensely until the atmospheric interlude of 'Good Mourning', segueing into the furiously fast 'Black Friday'.
The final three tracks are no less accomplished, 'Bad Omen' showcasing some fine guitar work, 'I Ain't Superstitious' a good fun cover, while 'My Last Words' closes proceedings in style with break-neck riffing and smoking solos.
Basically, 'Peace Sells' is the definitive album for die-hard fans when it comes to the Megadeth sound.
One to Avoid: Risk
'Risk' is without doubt the Megadeth record to avoid; it hardly even sounds like them (ex-manager Bud Prager has writing credits on five tracks). If it wasn't for Mustaine's familiar vocals, some tracks could easily be mistaken for 'Bon Jovi'.
Nevertheless, the album is by no means bad; listened to in its own right, it holds up as a well-crafted hard rock record with some good songs. The problem is that as one of the big four pioneers of Thrash, such a radical departure was seen as selling out in pursuit of a number one. In the context of their back catalogue; it makes for painful listening.
From the hard rock riffing of 'Prince of Darkness' and the funky 'Crush 'em', past the Jovi-esque 'Breadline' and 'Wanderlust', through to the acoustic strumming of 'Ecstasy' and power ballad 'Time (The Beginning)' they do every hard rock cliché in the book. We get empowering lyrics, synth riffs, drum stops, "whoas", cow bells and even harmonies on the radio-friendly choruses.
In music, context is everything and although this is great hard rock, it is an awful Megadeth album, under any other band name Dave probably would've got that elusive number one.
Essential Playlist:
Holy Wars (Punishment Due)
Hangar 18
Peace Sells
Fatal Illusion
Countdown to Extinction
Trust
I Thought I Knew it All
Symphony of Destruction
Devils Island
Hook in Mouth
À Tout Le Monde (Set Me Free) – 'United Abominations' version
Foreclosure of a Dream
Rust In Peace…Polaris
In My Darkest Hour
Good Mourning/Black Friday
'Dystopia' by Megadeth is released on 22nd January on Universal Music/Tradecraft/T-Boy Records.
Megadeth links: website|Facebook|Twitter
Words by Edward Layland (@EdwardLayland)