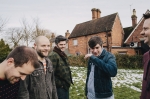 Stagecoach has unveiled details of their debut album 'Say Hi To The Band.'
The album is due for release on 13th May through Alcopop Records and will be released on vinyl, CD and MiniDisc.
1. Work! Work! Work!
2. Action
3. 56k Dial-Up
4. A New Hand
5. Threequel
6. Kings Resolve
7. First & Last
8. Nothing Leads You Astray
9. We Got Tasers
10. I'm Not Your House
11. Video Shop
The new video for 'Work! Work! Work!' can be viewed by clicking read more along with the bands upcoming UK tour dates.
May
11th The Labour Club, Northampton
12th TBC
13th The Cellar, Oxford
14th Birthdays, London (Launch with Joanna Gruesome & Tyrannosaurus Dead)
15th The Zephyr Lounge, Lemington Spa
17th The Great Escape, Brighton
18th Rough Trade West, London
30th The West End Centre, Aldershot
31st The Buffalo Bar, Cardiff
June
1st Santiago's, Leeds