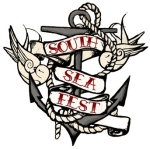 Details of this years Southsea Fest have emerged with the lineup including the likes of Future of the Left, The Computers, Bangers, Giants, Nai Harvest, Gunning For Tamar and many more.
Details about the DIY stage, the Alcopop Records and Big Scary Monsters Records stage and the Punktasticstage can be viewed below.
Southsea Fest 2013 takes place on 14th September. Tickets are just £18 and can be purchased from southseafest.com.
DIY:
Future of the Left
Temples
Superfood
Night Engine
Thumpers
Crushed Beaks
Sisters
Alcopop!/BSM:
Anamanagucci
The Computers
Stagecoach
Gunning For Tamar
Axes
Doctrines
Delta Sleep
Punktastic:
Headliner TBA
Bangers
Giants
Nai Harvest
The Cut Ups
All We Have
Yards
Lay It On The Line
As It Is
Still Bust
Nathan Detroit
Summerslam 88