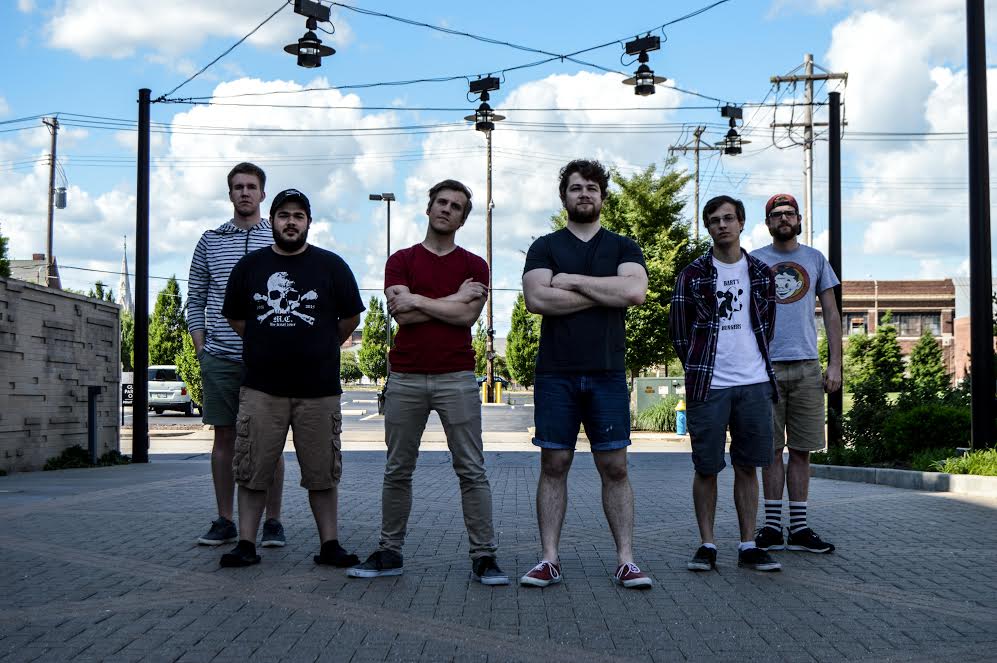 With summer arriving sooner than expected, it's time to introduce you to a band who are the perfect soundtrack for the months ahead. Meet Must Build Jacuzzi. Hailing from Peoria, Illinois, the sextet are set to release their debut album, 'Last Place', this Friday through Indie Vision Music.
Having been compared to Less Than Jake, We Are The Union, and Streetlight Manifesto, 'Last Place' showcases Must Build Jacuzzi's brand of ska-infused punk rock through a set of infectious songs. Throughout the album, there's a range of vibrant, hooky punk songs with brass bursts and jangly guitars.
Ahead of its release this Friday, we've teamed up with the band to premiere a song from 'Last Place' alongside a track-by-track insight into the record.
The song we are premiering is '3rd Out of 3 Ain't Bad'. Straight away it shows you what Must Build Jacuzzi are all about; driving, melodic guitars, uplifting ska blasts with a punk rock undertone. Not bad to say it started out as a voice demo recorded on vocalist Caleb's phone. Read on to find out more about the making of 'Last Place'.
3rd Out of 3 Ain't Bad
Caleb: This was actually the last song we had written for the record. Usually, Bill and I will demo out the songs with programmed drums and get a rough outline how things should go. For this one, I was in the car one day and pretty much the whole structure of the song just came to me. I recorded a voice demo on my cell phone. When we got together to learn it, the rest of the band all added their own flavour to the mix, and it became what it is now. We figured the drum build at the beginning leading up to the horns and the whole band made it a pretty dope song to open the album with.
Quit While You're Behind
Caleb: In the winter of January 2017, we went on our first actual tour as a band down to Texas through New Orleans with our good friends Unamused Dave. This song references aspects of the tour and just how fun it was to get out of our own little bubble of venues in the midwest. The chorus kinda talks about how if we don't get out and actually play shows in other places, how is anyone going to know what we're about? We always try to play our hearts out and have fun on stage and we just hope that energy can make an impact on people and get them to have fun. We had some great turnouts at those shows and made a lot of memories.
I Wish You Would Have Told Me Sooner
Bill: Have you ever dated someone and all your family and friends don't like that person, and then when you break up they all tell you that they didn't like that person? This is a song about that, in generic ska/punk break up tones to make it more palatable.
Smoke Rings
Caleb: This is a song that went through a few iterations and name changes before it became what it is. I had recorded a demo of the song, but I didn't have lyrics yet. I wrote the vocal melody up front but just didn't know what the subject matter should be. I eventually decided to make it about a friend whom I was very close in the Christianity community, with who walked away from the faith entirely. I really don't know what caused the sudden shift, but we are still good friends.
Swing Set Summer
Caleb: This is one of the first songs we had written when getting together to work on 'Last Place' in the fall of 2017. The interesting part of the record as a whole is that it was recorded in many different locations. Some parts were recorded in the basement of our good friends Marshall and Ashley Brown's house. (They play in a sweet parent punk band called Parental Petulance. Go chem 'em out!) Others were recorded in the office where I work and at my house. This song harkens back to being young and having the world open to you. As time goes by, there are always thing's we wish we'd done differently. It makes you wonder if a younger version of yourself would be proud of the decisions you made that got you where you are.
Shot Through the Window
Caleb: As most of the songs on this record are about life experiences, this song is a fictional story of a man who is down on his luck and makes the decision to join organized crime to make ends meet and eventually loses his life. I was listening to a lot of early 2000s Cornerstone-era metal-core at the time and thought it would be fun to put a brutal breakdown in a ska song. It'll make for a fun pit at a show.
February Heat Wave
Caleb: This song is actually a re-recording from our 2014 EP, 'Second Banana Bruises'. We think we have cleansed the internet free from the album as it's production just isn't very good. We do still like a few of the songs from it and this one, in particular, is one we find ourselves playing live. We figured it was time to give it the proper treatment of having it not sound like it was recorded in a locker room from your local YMCA.
Armin Tamzarian
Bill: A lot of these songs are about growing older, and this one is about doing that and realizing that life is less about black and white dichotomy and more about the various greys in between. Growing up, everything seems to make sense as either good or bad, but eventually, you reach a point where life isn't good or bad in a lot of ways, so you have to figure things out. Sometimes people will fall away from their previous beliefs or word views when presented with this idea, but in my own life, I see a lot of the core tenants of the previous belief holding strong.
Everything's Coming Up Milhouse
Caleb: There was a period of time where I really lethargic and non-productive. I'd come home from work and things I normally like to do just didn't seem fun. I was really in a slump. This song is about overcoming feeling mundane or stagnant. It's easy to fall into a state of apathy when you are simply content with the way your life is going. You're never going to go places if you don't step out of your comfort zone and push for something greater than the day to day pattern you repeat. This song was kind of my own new year's resolution to push myself to be a better person the next year.
The Goodbye Song
Caleb: So we were all sitting around a campfire at AudioFeed Music festival one summer, and our sax player Keaton started playing this song on his acoustic guitar. He said he wrote this song for his music therapy class. We knew at that instant, it had to be the last song on the new record.
'Last Place' by Must Build Jacuzzi is released on 27th April on Indie Vision Music.
Must Build Jacuzzi links: Facebook | Twitter | Instagram | Bandcamp
Do you have a new video or release you'd like to premier on Already Heard? If so contact Sêan Reid to find out more.
---
If you have enjoyed reading this article and would like to help us produce more content and promote more great new music, please consider donating to our Patreon page.