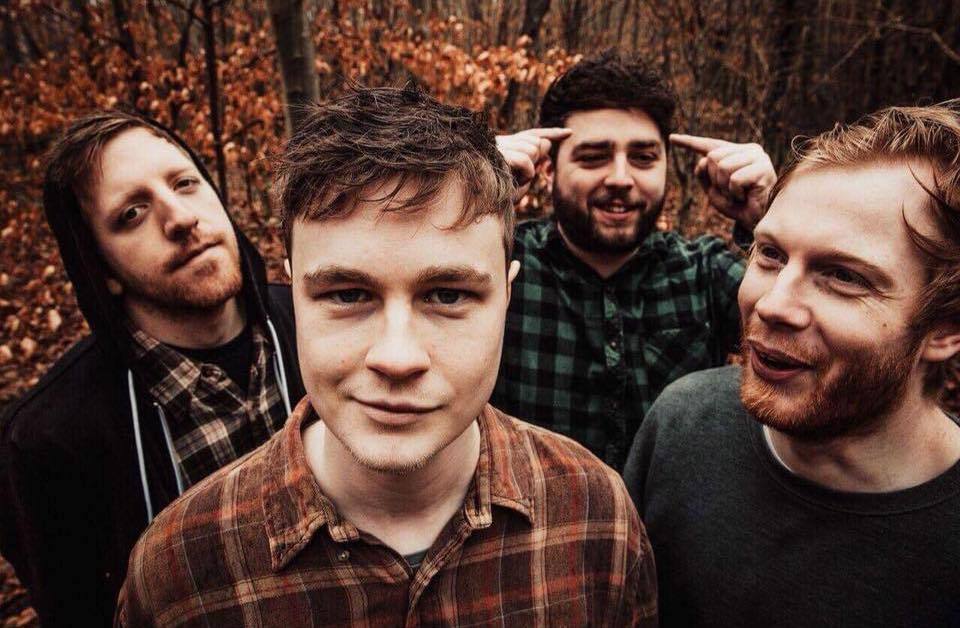 Since launching in 2013, Failure By Design Records have a proven track record of finding hidden musical gems. With names such as Boston Manor, Weatherstate, itoldyouiwouldeatyou, Lightcliffe and Guillotine amongst their back catalogue, the label continues to thrive. Today, we'd like to introduce you to FBD's latest addition – I Feel Fine.
Formed two years ago, the Brighton quartet are preparing to release their debut EP, 'Long Distance Celebration', on 4th May. Described as "twiddly-shouty rock music", the EP thrives on raw, energetic guitars, gang vocals with the occasional twinkling moment of reflection. For a glimpse of what to expect from I Feel Fine, you can exclusively hear their second single 'Lifer', below.
With comparisons to the much missed Derby outfit Crash of Rhinos, I Feel Fine's sound treads on the boards of emotive nostalgia with a thunderbolt of urgency.
Even though it's early days for I Feel Fine, with songs such as 'Lifer' already in their arsenal, they're certainly ones to watch. While an appearance in their hometown at Washed Out Fest, a celebration of the UK's constantly thriving DIY scene, is sure to be beneficial.
To learn more about I Feel Fine and 'Lifer', we spoke to guitarist/vocalist Nathan Tompkins.
AH: So today we're premiering the song 'Lifer' from your debut EP, 'Long Distance Celebration'. What can you tell us about the track?
Nathan: 'Lifer' is probably the most individual track on the EP. Personality-wise I mean. There was a bit of a post-punk/indie-rock influence going on when I wrote it, which are styles that I don't think we really gauge with quite as much on any other song there. At one point, a couple of us even briefly thought that maybe it should be released separately, or as part of a future release because of that, but I obviously feel differently now.
Lyrically the song touches on the frustration of feeling out of step or behind in anything progress-related, and how the struggle can sometimes make you question whether you're deserving of those goals.
AH: For some, this will be their first time hearing I Feel Fine. Besides being "twiddly-shouty rock music", what else should new listeners know about the band?
Nathan: That's a tough question to answer seriously. I get kind of uncomfortable when I feel like I'm being asked to sell the band, haha. Maybe readers can listen to the song's and make their own interpretations.
AH: 'Lifer' follows your first single, 'Everyday Safari'. Is there a connection to each track?
Nathan: Not so much one track to another, no. There is a sort of underlying theme across the EP as a whole, though, which is of learning to embrace growing older and understanding that, while we may fetishize it, we can't turn back the clock. You'll hopefully start to see, as we share each single, how we're trying to provide a visual element to that story.
AH: You worked with acclaimed producer Lewis Johns on the EP. How did you find the experience working with someone who's worked with a wealth of influential bands?
Nathan: Equal parts enjoyable and terrifying, haha. Of course, Lewis' work speaks for itself. He's been around a while and worked on a lot of prestigious records. So, from that point of view, it was exciting to have the opportunity to work with him.
For most of us, though, it was the first time we've properly recorded anything, which made the prospect a little daunting initially. Totally to his credit, though; he had the patience, understanding and direction we could have only dreamed of before in order to get the record right.
AH: The EP is being released through the brilliant Failure By Design Records. We hear the pairing between you two came together rather quickly?
Nathan: It did. I think that during the planning and recording of the record, we'd probably resigned ourselves into thinking that we'd likely wind up self-releasing it. There was talk, however, of us at least trying to get a label interested, not that I think any of us expected it to suffice so early on.
That's when – seemingly out of the blue – Connor (one half of FBD) started messaging us and talking about the record. It had turned out that Patrick (McNaught, runner of Washed Out Fest, who had already offered us the gig by that point) was letting Connor crash at his place and shared with him a link to the EP we'd sent. We agreed to work together shortly after that.
AH: Besides the EP, you're set to play Washed Out Fest in your hometown in April. With a host of underground/DIY bands playing, how important are festivals like Washed Out to the UK scene?
Nathan: Very. It probably seems like music is getting more and more esoteric and varied, but I think that's mainly because as consumers we have better resource today to access that wider sum of it. Still, first you have to give those people a reason to listen to you, and for the UK punk and emo scene's Washed Out is instrumental in that process. It provides bands with the opportunity to engage so many new fans.
AH: Other than yourselves, who should people be checking out at Washed Out?
Nathan: H_ngm_an, definitely! Also Algae Bloom and itoldyouiwouldeatyou. I'd put my faith in Pat, though. Anybody else on that line-up is equally worth your time.
AH: Lastly, why should folk head down to Brighton for it?
Nathan: For all of the reasons above. Plus a lot of the food, drink and venue's here are really worth checking out. You could get me started but, then again, TripAdvisor might trump me on providing better counsel for that. Maybe.
'Long Distance Celebration' EP by I Feel Fine is released on 4th May on Failure By Design Records.
I Feel Fine links: Facebook|Twitter|Instagram
Do you have a new video or release you'd like to premier on Already Heard? If so contact Sêan Reid to find out more.