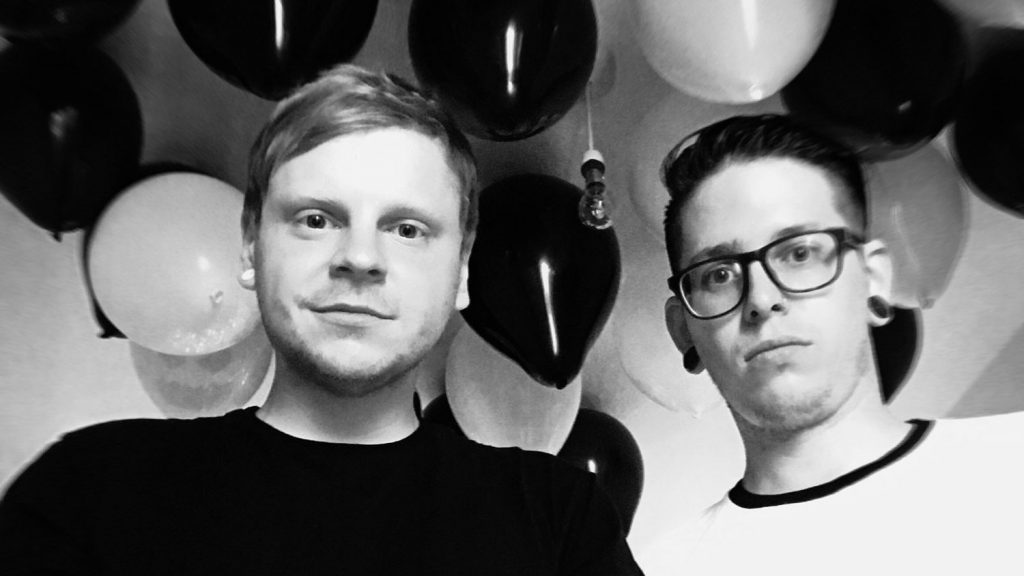 Brighton duo H_ngm_n describe their sound as "dirty emo pop" and it's easy to see why. Since forming four years ago, James Martin and Chris Childs have been producing heartfelt songs with a melodic drive. Now they're set to release a new EP called 'I Don't Wanna Go Home' next month through Real Ghost Records. Its four songs perfectly captures the sad, emotive nature of past releases and blends it with radiant, catchy hooks that are full of hope.
Ahead of its release, we're pleased to be premiering the closing track from the EP, 'Ghost'. It is considerably H_ngm_n's most reserved offering to date but is still carried with the heart that has served the duo so well so far. And for those hearing them for the first time, we think it's an ideal introduction to what H_ngm_n are all about.
AH: Introduce us and tell us a little bit about H_ngm_n?
H_ngm_n: Hey, we're Chris and James, a two-piece emo punk band from Brighton. We used to play in a band together, and have been doing H_ngm_n for around four years now. We write sad lyrics over upbeat tunes, we're quite noisy and we sweat a lot. Songs about drinking too much, hating getting older and generally overthinking everything. Cheery!
AH: You've just been touring across Europe, how was that?
Chris: We had an absolute blast. Besides the fact that James forgot to bring jeans and did the whole tour in shorts, and I managed to buy a children's sleeping bag, we survived. Everyone we met has been super nice (except a few old angry German guys we managed to upset) and we can't wait to do more touring in the new year. Europe is sick and to getting to do it with All Better was well fun.
AH: Today we're hosting the exclusive premiere of 'Ghost'. Tell us about this song and the lyrical meaning?
Chris: So we went with a different approach with this song, it's quite a bit slower than a lot of our stuff. It's basically about wanting something you can't have. I think everyone can relate to that feeling at some point. The grass is always greener, right? But yeah it's like being in that limbo of feeling bad about it and being almost obsessive, all while trying to accept that sometimes it isn't all that. I hope that makes sense, I suck at explaining songs!
AH: What's next for H_ngm_n?
Chris: World domination obviously. But I guess before we do that, we'll be getting our new EP out (with Real Ghost Records!) and we have a load more tours in the pipeline for the new year. Also got a couple of videos in the works too. And then world domination.
'I Don't Wanna Go Home' EP by H_ngm_n will be released through Real Ghost Records.
H_ngm_n links: Facebook | Twitter | Bandcamp
Do you have a new video or release you'd like to premier on Already Heard? If so contact Sêan Reid to find out more.
---
If you have enjoyed reading this article and would like to help us produce more content and promote more great new music, please consider donating to our Patreon page.