For this week's edition of "Something For The Weekend" our guest writer is Martyn Crocker vocalist and guitarist for up and coming alternative indie band This Calamity.
The Plymouth quartet started out an experimental solo project but by June of 2012, the project had become a full band with their latest release; 'I'll Paint You A Picture If You Promise To Put It Up' receiving plenty of acclaim. This Calamity are set to follow up the mini-album later this year and will begin recording in April.
If your label or band would like to become a guest writer for Something For The Weekend contact Sean Reid to find out more information.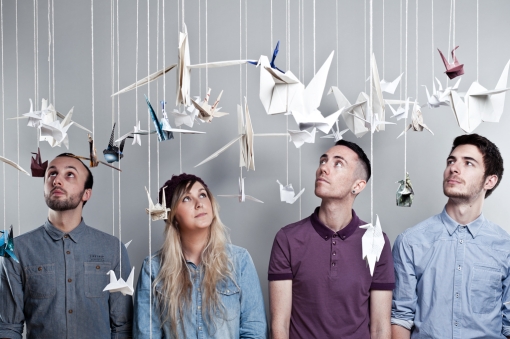 I've chosen a group of acts that have gained my attention and are currently interesting me.  The music I'm offering is varied, but all of excellent quality and I hope that your readers will be able to listen to each with open ears. It would be great if in the process, they discover something that they really love. 
Attention Thieves
For Fans Of: Lower Than Atlantis, Foo Fighters, and The Arusha Accord.
I used to play with these guys a bit in my old band and i'm very fond of the act and the individuals within it. Great bunch of guys who tour hard and put everything they do into their music.
They've just released their first single to their new, as yet un-named debut album that they recorded at Outhouse Studios in 2012.
The album follows their 'Look A Little Closer'EP that made a big difference for the band. They released three videos to support that release and played all over the country, including Reading and Leeds festival and judging on the strength of this new track, they're going to ascend quickly through the UK scene.
Expecting big things from them in 2013.
Attention Thieves on Facebook, Twitter and Soundcloud.
Dan James
For Fans Of: Proceed, Justin Timberlake, and John Mayer.
I loved Proceed. I feel that their 'Curious Electric' mini-album is one of the most exciting underground releases of the last five years and why the entire country didn't catch on still frustrates me. It was probably too "challenging" or something lame like that. Either way, they don't seem to be doing too much at the moment and the bands members have been picked up by other acts such as Don Broco and Heights.
Recently this week, myself and our drummer checked out Dan Lancaster's solo stuff, re-branded as 'Dan James'. Dan has been keeping himself busy producing all the Mallory Knox, Don Broco and a selection of the Lower Than Atlantis stuff and has now transferred his production skills to his own, solo work.
What he's offering is a heavily produced modern Pop sound, a backing of a frantic acoustic guitar line and the centre piece of Dan's incredible, one of a kind voice. The one original song is hugely promising and as much as I can't get behind a David Guetta or Jessie J cover, I'm very interested in hearing more of his own compositions as he's obviously a superb writer that easily composes massive hooks. Have a listen.
You'll be able to say that you heard him first when everyone's talking about his music.
Dan James on Facebook, Twitter, Tumblr and Soundcloud.
Elliot Whale Boy
For Fans Of: Radiohead, Foals, and Battles.
These guys were a Plymouth band that really should have been huge. No idea why they didn't really push the band more, but maybe that makes them more intriguing. They were around for about a decade and released multiple EP's and individual great songs, but there are two 'proper' albums that you should really check out: 'Dumblands' and 'Ice Cream Truck On Fire'.
The music is incredibly creative, intelligent and rewarding, but it isn't especially difficult to get into. This is music for people that really love MUSIC and nothing but, it's the type of stuff that the Mercury Prize goes nuts for and it has great character. The albums flow wonderfully, the musicianship's original and there's far more integrity here than any of most of the stuff Radio 1 is championing for 2013.
Elliot Whale Boy on Facebook and Soundcloud.
'Animals' EP by This Calamity is available as a free download from thiscalamity.co.uk.
'I'll Paint You a Picture If You Promise to Put It Up' by This Calamity is available on iTunes.
Further information on This Calamity can be found on Facebook, Twitter, and Tumblr.