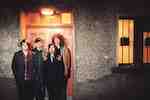 Glaswegian quartet So Many Animal Calls have announced the release of their second EP. Titled 'Burden', the four track EP is released on May 26th 2014 via Bloc+Music.
1. From The Sick Bed
2. My Blood's Not Mine
3. Chromatography is for Cool Kids
4. Stories
The band are offering 'My Blood's Not Mine' as a free download, which can be found after the jump.