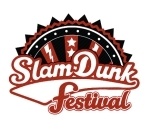 The latest Slam Dunk Festival line-up has been made with three bands being added to the festival – Feed The Rhino, Natives, and Landscapes.
In additional news, the line-up for the acoustic stage has been announced. It will be headlined by Vinnie Caruana (The Movielife and I Am The Avalanche). Joining Vinnie will be You, Me, and Everyone We Know, Rob Lynch, Mike Herrera (of MXPX) and The Lion & The Wolf.
May
Fri 23rd Slam Dunk Scotland: Liquid Rooms, Edinburgh
Sat 24th Slam Dunk Festival North: Leeds University
Sun 25th Slam Dunk Festival South: The Forum Hertfordshire
Mon 26th Slam Dunk Festival Midlands: Wolverhampton Civic
Tue 27th Slam Dunk Wales: Newport Centre, Newport
Click read more for the full line-up so far.