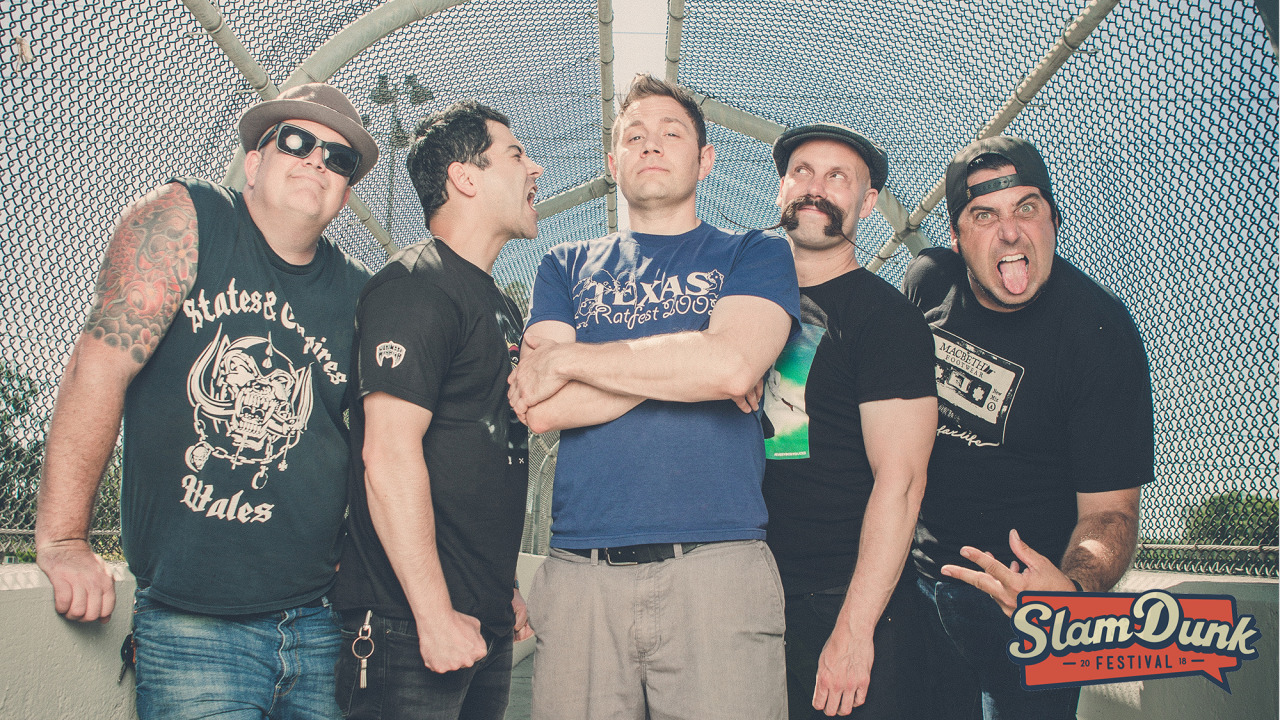 Over the coming weeks, Already Heard will be highlighting a variety of bands set to play the Slam Dunk Festival later this year.
Having graced the Slam Dunk Festival with their presence for the past four years, California party punks Zebrahead will be returning for a fifth consecutive year this May. Known for their rap-tinged, pop-punk hooks, the Cali quintet are the perfect party band for SDF weekend.
While they put the finishing touches to their forthcoming 13th album, 'Happily Never After', ahead of its mid-2018 release, we asked lead vocalist Ali Tabatabaee to give us the A-Z guide of the Slam Dunk Festival. Well, sort of…
A
Flying from Los Angeles to London on an AIRPLANE.
B
Hangin' out with Prince Harry after the shows at BUCKINGHAM Palace.
C
D
Trading in my DOLLARS to pounds when we arrive.
E
Playing our awesome EVH guitars at the shows.
F
Everyone FARTING on the tour bus as I'm trying to sleep in my bunk.
G
Using GENDER-neutral bathrooms at the venues.
H
Drinking HIGHBALLS in HATFIELD before the show.
I
Finding out that Trump got IMPEACHED during our set this year.
J
Telling everyone I like their JUMPERS, instead of saying "sweaters" as I walk around the festival grounds.
K
Watching the movie KEANU and cuddling .
L
Queueing up to use the LOO.
M
Your MOM.
N
NANDO's for lunch.
O
Hearing OWEN, our sound guy, tell me to stop cupping the microphone.
P
PUNK! PUNK! PUNK!
Q
QUEUEING up to use the loo.
R
REMEMBERING what stage we are playing on after a long day of partying.
S
Sup?!.
T
The TIME our friend, "the Dong" got super sick after eating a cheeseburger from catering. We had to take him to the hospital a few days later. But, he lost five pounds and looked great.
U
Getting drunk and swearing you saw a UFO at the after party…
V
…Then getting into arguments with anyone that VAPES.
W
WAKING up hungover.
Y
Writing in your YEARBOOK: "Have a bitchin' summer, stay rad and see you at the next Slam Dunk Festival!"
Z
ZEBRAHEAD wuz here!
Zebreahead links: Website|Facebook|Twitter
---
Slam Dunk Festival 2018 takes place on the following dates:
May
Sat 26 City Centre, Leeds
Sun 27 Hatfield Park, Hatfield
Mon 28 The NEC, Birmingham
Tickets can be purchased here.
Slam Dunk Festival links: Website|Facebook|Twitter|Instagram