For some, the Slam Dunk Festival is seen as a pop-punk festival and you can't blame them. Ever since Fall Out Boy headlined the initial SDF back in 2006, its played host to some of the genres biggest names. In previous years, the rise of names such as The Story So Far, The Wonder Years, and Neck Deep has coincided with their ascension up the Slam Dunk bill.
While SDF has become much more than just a pop-punk festival, its presence remains. Amongst those representing it in 2018 is Scottish quartet WOES. Although this will be their SDF debut, they're far from unknowns. Over the past 18 months, the Edinburgh outfit have more than paid their dues. Alongside their late 2016 eponymous EP, they've toured relentlessly with notable slots supporting Neck Deep, Seaway, and more recently, a European run with Frank Carter & The Rattlesnakes.
Now as they prepare to embark on a summer of several festival spots, they're releasing their second EP – 'Self Help'. Combining the genre tropes of classic and modern pop-punk, songs such as 'High On You', 'Real World', and 'Losing It' are addictive and hit all the marks when it comes to being a pop-punk band.
As they take a short break before a busy summer, we caught up WOES vocalist DJ to find out more about their history, their festival debut expectations, and lessons learned from touring.
AH: WOES is a name that has been kicking around for the past few years. For those hearing about you for the first time, can you bring them up to speed on the history of the band? We understand you've been playing together in other bands before WOES?
DJ: We dropped our first song, 'Worst Friend', in September 2016 I think. So we've been around for about a year and a half. We just played our 40th show last night in Munich, and in that time we've toured with Neck Deep, As It Is, Real Friends, Seaway and Frank Carter & the Rattlesnakes. We've also played with Four Year Strong and Trash Boat. This year we're playing Slam Dunk and Download, plus a boatload of UK headline shows that we're hoping to make really special.
We released a self-titled EP on Rude Records and we're releasing our 'Self Help' EP on UNFD soon! 
We're writing our debut album now, and it's going great so far. The songs are a big step up from what we've done so far and I'm excited to get it out there, hopefully, it's this year. We're hoping to add a couple of different elements to our sound on the album, which we're excited about.
Wow, it's pretty crazy going through all that. It's been a blast!
AH: It looks like you're set to step things up in the coming months; signing to UNFD, touring and major festival spots. When it comes to playing festivals, does the growing amount of attention lead to added pressure?
DJ: For me, no. Everyone handles it differently and some of the guys would maybe give you a different answer. But for me, it's just a huge opportunity to go out, exceeding everyone's expectations and hopefully take our band to a different level each time. I haven't been practising and playing in bands my whole life to be scared of the big opportunities when they come my way.
AH: As an emerging band, how important is it to leave a lasting impression when you play festivals like Slam Dunk and Download?
DJ: Yeah, massively important. Anytime we do something like that, we're hoping to go out and have one of 'those sets' that people talk about in a few years time. We're a band that gives a lot of energy on stage and puts on a show, but we also pride ourselves on playing as well as any other band that steps on the stage after us. So if you're coming to see us this summer, give us all you've got and we'll give you everything we have and more.
AH: You're going to be making your Slam Dunk and Download debuts in the coming months. How you attended either of them before? If so, what are your stand out moments?
DJ: Hmmm, good question. I've never been to Download actually! Not sure how that's happened but there you go. I've been to Slam Dunk four or five times now. It's always a blast. Any time I've seen Four Year Strong, The Wonder Years or Neck Deep have probably been my best memories. Great live bands.
AH: In recent months you've toured with Neck Deep and Seaway. How was it playing to bigger crowds? Did you learn anything from either of those tours?
DJ: Yeah, we learned a ton every day. Some of the Neck Deep shows were huge in scale. We played Brixton [Academy], which was sold out, and there was co2 cannons, lasers, fireworks on the stage. We're opening, having the biggest show of our lives, trying to navigate around all of that.
With Seaway, we were higher up the bill and more was expected of us in terms of being a support band, so we had to up our game to each day to cope with that. Playing to bigger crowds has been amazing, and there's so much more you can do when the room is full to get people going. We've just been on tour with Frank Carter and he's the master of that, so I've been picking up loads from him.
'Self Help' EP by WOES is released on 4th May on UNFD.
WOES links: Website | Facebook | Twitter | Instagram
---
WOES will be playing the Signature Brew stage at the Slam Dunk Festival on the following dates:
May
Sat 26 City Centre, Leeds
Sun 27 Hatfield Park, Hatfield
Mon 28 The NEC, Birmingham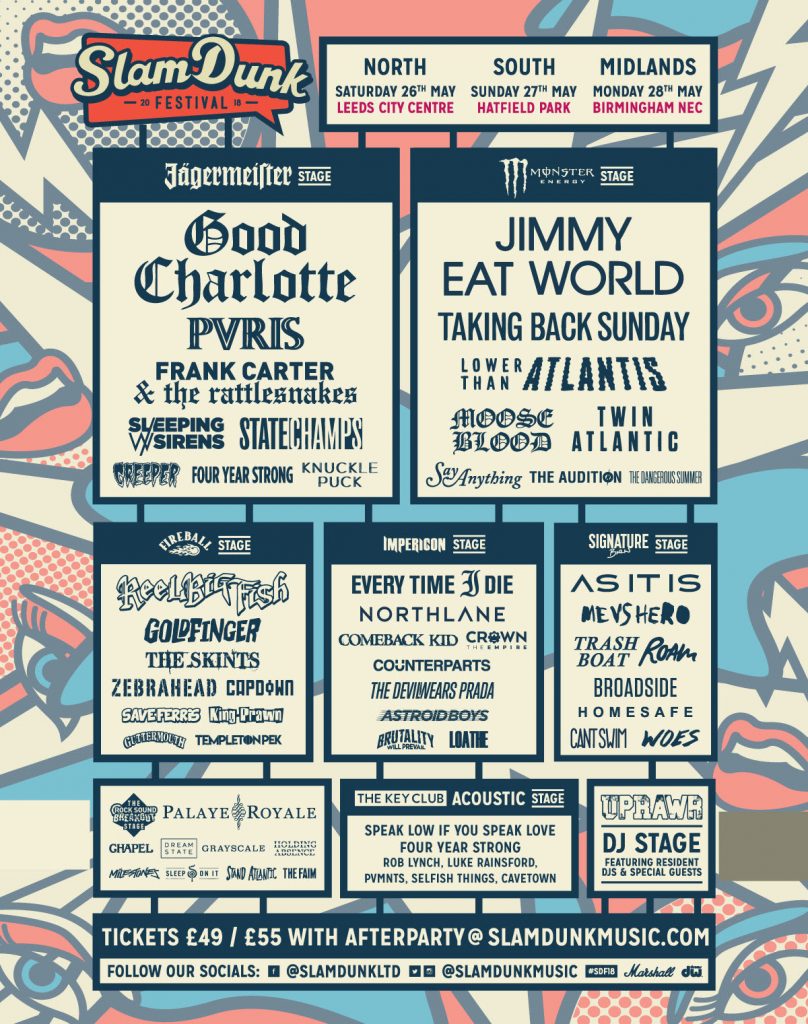 Tickets can be purchased here.
Slam Dunk Festival links: Website | Facebook | Twitter | Instagram
---
If you have enjoyed reading this article and would like to help us produce more content and promote more great new music, please consider donating to our Patreon page.