Birmingham punk rock trio Templeton Pek have been going strong for ten years. Throughout that time, they've played with an honour roll of influential punk rock bands; The Offspring, Rise Against, Bad Religion, Sum 41, NOFX and more. Add to that a list of a plethora of festivals in the UK and Europe, and you'd think the three-piece have more or less done it all. Well, you'd be wrong… sort of.
Let us explain. While this year's Slam Dunk Festival appearance is considered their 'proper' debut. They aren't strangers to the festival having played Slam Dunk Birmingham back in 2011. However, Templeton Pek have done a lot since then.
As they celebrate their 10th anniversary, the Brummie group recently released their fifth album – 'Watching The World Come Undone'. It sees them use their experience to good use, offering 10 raucous slices of tight-knit punk rock. While its darker lyrical tone weaves its way throughout as they draw from personal and external struggles such as politics, the environment and cultural shifts. Songs such as 'The Aftermath' and 'City of Fire' epitomises the album ideally; socially conscious wrapped in a ball of energetic skate-punk.
As openers on the Fireball stage, they're sure to set the bar high each day as they'll be playing alongside Reel Big Fish, Goldfinger, The Skints and Zebrahead. We caught up with vocalist/bassist Neal Mitchell to discuss lessons learned from past festival experiences, the trick to the perfect festival setlist, and more.
AH: Although you've played the Birmingham leg of Slam Dunk before, this time you're playing all three dates. What do you remember from the last appearance?
Neal: I remember it being over far too quickly, and if I remember correctly we had already played a show that night so it was two in a day. We're really looking forward to playing all three in a mini-tour and catching some bands we've not seen or had a drink with for a while.
AH: Having been a band for the best part of 10 years, we're guessing you have your fair share of festival stories, both good and bad?
Neal: We haven't really had any bad ones to be fair, we tour a lot in mainland Europe and we've had our fair share of driving monster hours to play our set, only to leave and drive monster hours to another festival. But its part of the fun, the free beer helps.
AH: What lessons have you learned from playing festivals in both the UK and Europe?
Neal: For a band our size, it's important to remember a lot of people aren't there to see you and just may have happened upon you, so it's always gotta be the strongest 30 mins you can do, a snapshot of your music. And make a stash of beer just in case.
AH: With just 30 minutes, what can we expect from your setlist? Old favourites and some songs from 'Watching The World Come Undone'?
Neal: It'll be a pretty tight set of our biggest songs and singles from the new album, we're lucky in that we've had 5 albums, but boiling that to 30 mins is hard so we have to pick out the "A" game songs.
AH: What is the secret to the perfect festival setlist?
Neal: I would say if anything plays less, there's nothing worse than running over, and for the sake of squeezing in one song, it's not worth it. It's better to leave people wanted more than piss off the stage manager and festival boss.
AH: You're on at the same time as some other bands. For those torn between yourselves and someone else, why should they head to the Fireball stage?
Neal: I would say if you want to kick-start your festival positively our music is pretty much the ideal type for a festival to put you in a pumped mood. Plus we are really nice people.
AH: Once you've done you're set, who will you be watching and why?
Neal: I think we will have a few beers with our stage buddies, then maybe go see Comeback Kid and Jimmy Eat World to start. But part of the fun is coming across a band you may not have realised you liked, so we will be wandering around.
'Watching The World Come Undone' by Templeton Pek is out now on Drakkar Records.
Templeton Pek links: Website | Facebook | Twitter | Instagram
---
Templeton Pek will be playing the Fireball stage at the Slam Dunk Festival on the following dates:
May
Sat 26 City Centre, Leeds – 1:00pm – 1:30pm
Sun 27 Hatfield Park, Hatfield – 12:40pm – 1:10pm
Mon 28 The NEC, Birmingham – 12:40pm -1:10pm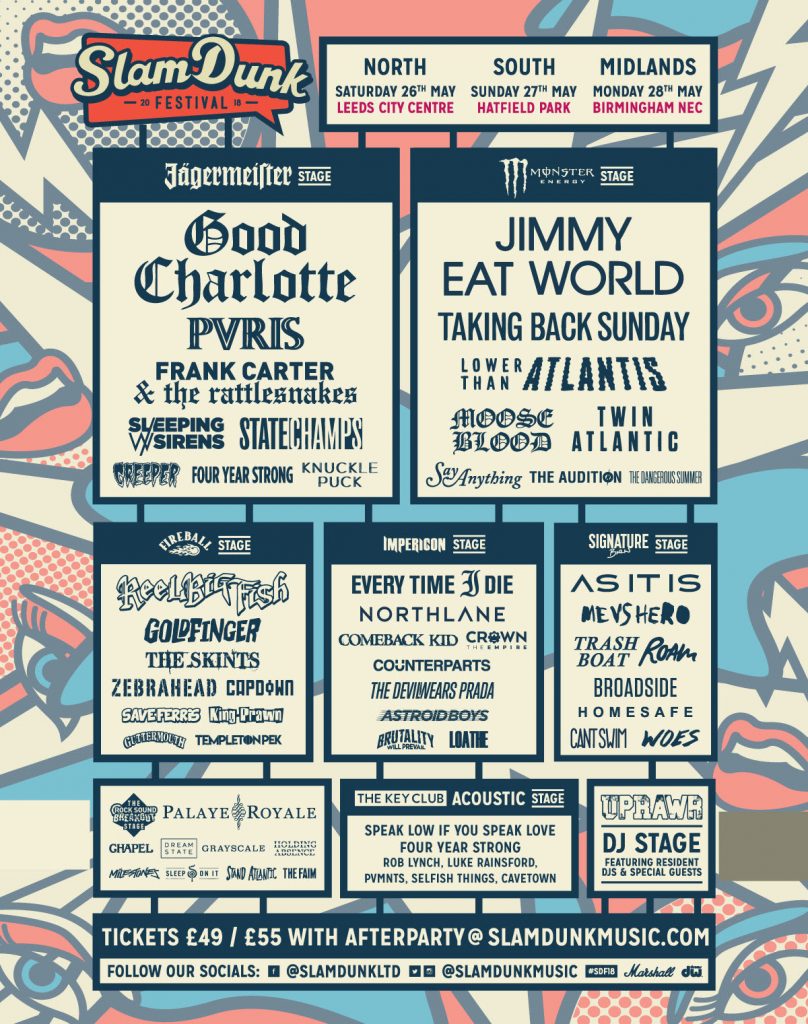 Tickets can be purchased here.
View more of Already Heard's Slam Dunk Festival 2018 coverage here.
Slam Dunk Festival links: Website | Facebook | Twitter | Instagram
---
If you have enjoyed reading this article and would like to help us produce more content and promote more great new music, please consider donating to our Patreon page.