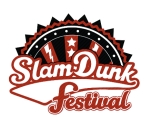 The organisers behind the Slam Dunk Festival have announced three additional events taking place in Scotland, Wales and Ireland.
Slam Dunk Scotland will take place on Friday 24th May at O2 ABC venue in Glasgow. The event will be headlined by Four Year Strong and Pierce The Veil with Memphis May Fire, The Early November, The Wonder Years, Man Overboard, Woe is Me and Hands Like Houses also playing. Tickets are £15 and are available here.
The Welsh Slam Dunk event will take place on Tuesday 28th May at Cardiff University and will consist of the same line up as Slam Dunk Scotland. Tickets are £15 or £18 including aftershow, and can be purchased here.
The following day will see Slam Dunk head over to Ireland for the first time. The event will take place at The Academy in Dublin with the lineup consisting of Four Year Strong, The Wonder Years, Bury Tomorrow, Yashin, Man Overboard, Fireworks, Jody Has A Hitlist, Wounds and Red Enemy. Tickets are 18 Euros or 22 Euros (inc booking fee) and available here.
In additional news, three more bands have been announced for the three English Slam Dunk dates. We Are The Ocean will be returning the festival after a year away, whilst Handguns and Australia's Hands Like Houses will be making their first appearances at the festival.
May
Saturday 25th Slam Dunk Festival North Leeds University
Sunday 26th Slam Dunk Festival South Herts Uni, Hatfield
Monday 27th Slam Dunk Festival Midlands Wolverhampton Civic
Full set of bands announced for Slam Dunk England so far:
All Time Low
Four Year Strong
Sleeping With Sirens
The Skints
Pierce The Veil
The Early November
We Are The Ocean
The Wonder Years
Memphis May Fire
Streetlight Manifesto
Andrew McMahon
Senses Fail
Woe Is Me
Polar Bear Club
Man Overboard
The Summer Set
Mallory Knox
MC
Fireworks
The Story So Far
Handguns
Hands Like Houses
Visit slamdunkmusic.com for full information on all Slam Dunk 2013 events.
Click read more to view the flyers for all Slam Dunk 2013 events.