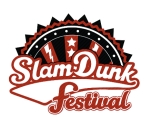 The organisers behind the Slam Dunk Festival have launched a competition for 6 unsigned bands to play their local leg of this years events.
Six bands will be picked to play one leg of Slam Dunk and will play the nearest event to their location; North, South, Midlands, Scotland, Ireland and Wales.
The following message was released:
"Are you in a band? Do you fancy playing at this year's Slam Dunk Festival? Well now is your opportunity! This year we are running a competition for 6 bands to play their local leg of SDF, and entering couldn't be easier. Get your fans to vote for you by emailing [email protected], with your band name as the first word in the subject and a link to your Facebook page in the body. No other info is required, and it is strictly one vote per email address. You will be automatically entered to play the show most local to you based on your location (between North, South, Midlands, Scotland, Ireland and Wales).
Email voting will run from today (Wed 13th Mar) until Friday 5th April. A judging panel will then pick 5 bands for each date to form a shortlist. This shortlist will be published on Wed 17th April, and ultimately your fans will decide who wins a slot on each date by voting from the shortlist on Slam Dunk's Facebook page. Good luck!"
May
Friday 24th Slam Dunk Scotland O2 ABC Glasgow
Saturday 25th Slam Dunk Festival North Leeds University
Sunday 26th Slam Dunk Festival South Herts Uni, Hatfield
Monday 27th Slam Dunk Festival Midlands Wolverhampton Civic
Tuesday 28th Slam Dunk Wales Cardiff University
Wednesday 29th Slam Dunk Ireland The Academy Dublin
Visit slamdunkmusic.com for full information on all Slam Dunk 2013 events.