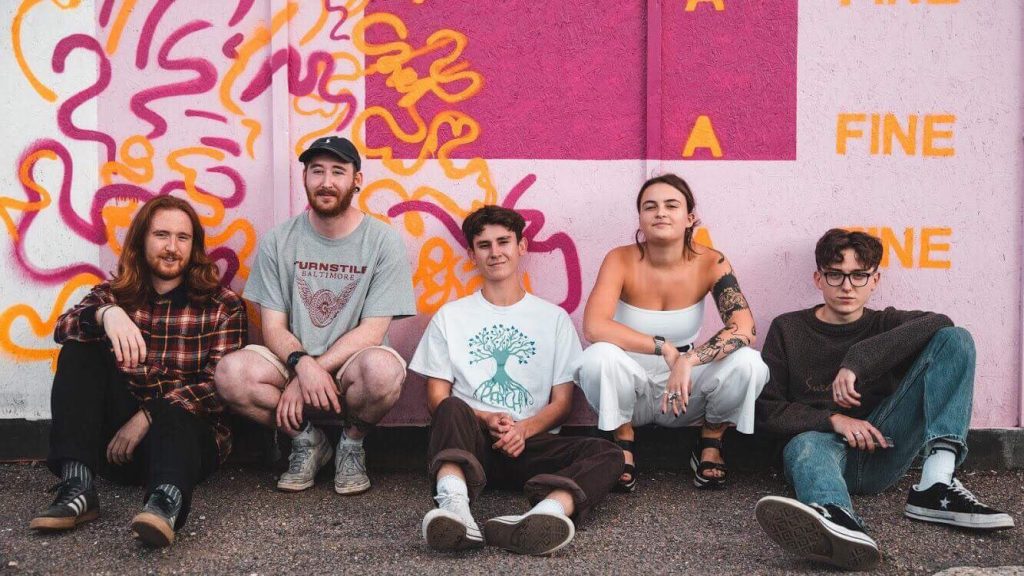 Since forming in their hometown of Norwich in early 2016, Marigolds have been fine-tuning their blend of indie pop, emo and punk. Now following two EP's, they're beginning a new chapter with drummer James Lapping and vocalist/synth keyboardist Lydia Whiting joined the band this past summer.
'Much To Me' is the first step with this rejigged lineup. Ahead of its release tomorrow on Beth Shalom Records (americansignlanguage, Death By Shotgun, Hora Douse), we're pleased to be premiering the track.
The steady, introspective number captures Marigolds' harmonious and stirring instrumentation, providing a solid foundation as they look towards recording their third EP. It also marks Whiting debut as co-lead vocalist alongside guitarist Joe Maguire. Together, they add to 'Much To Me''s' heartwarming and melancholic tone.
With the new single considerably being a fresh start for Marigold, we thought it'd be a good idea to find out a little bit more about the quintet.
AH: 'Much To Me' is your first release since a slight lineup shuffle. For those hearing you for the first time, bring them up to speed on the history of Marigolds?
Marigolds: We started in January 2016 as a four-piece and released our first few songs on a three-track EP in February that year. After releasing another single that summer, we went out on a small tour with our friends in Pet Library. We went on to play shows around Norwich and other places in the UK, supporting bands like Turnover, Spring King and Muskets.
In early 2017, we released our follow up EP called 'Asleep In The Sun' which received airplay from BBC Introducing and other national radio stations. We were very quiet for a while before releasing a single called 'Slept Out' in May 2018. In the summer of 2018, we had a slight line up shuffle because our first drummer, Owen (Fuller), lived in Scotland for uni and us living in Norwich made it logistically quite hard to get things done. Now, we've got our new Papi, James, in on drums, and Lydia as another vocalist/synthy stuff and here we are!
AH: With Lydia and James joining the band, what do they bring to Marigolds that wasn't there before?
Marigolds: Having Lydia and James join has had such a great impact on the band. Since James and Lydia joined, we're putting way more time into refining our sound and creating something we're all really proud of. Lyd joining has really changed the dynamic, as we now have two lead vocals, and synth (which we didn't have before). James brings warm hugs and hits the tubs pretty well.
[bandcamp width=100% height=120 album=4241612226 size=large bgcol=ffffff linkcol=0687f5 tracklist=false artwork=small track=3035380124]
AH: So let's talk about 'Much To Me'. What's the backstory and what is the track about?
Marigolds: We wrote 'Much To Me' in our first band practice back from a bit of a break and it was James' first time jamming with us. The concept of it revolves around introspectively identifying toxic aspects of your life which are impacting your well-being. It centres mostly around the people you surround yourself with and questioning if they actually care or just perpetuate current feelings of isolation and comparison. It's also about figuring out your true authentic self rather than basing every interaction around an anxiety of what those people will think of you. Our boy Tom Joy at Crystal Sound Studios recorded, mixed and mastered the song at the end of August.
AH: Looking past the release of the single, can we expect more new material in the coming months?
Marigolds: After we release the single, we're going straight back into the studio to record a five-track EP and aiming for a release in the first half of next year. We're also trying to play more shows out of Norwich and going to do a small weekender in January and a longer tour in summer. So if any artists that wanna do something with us, slide in those DM's.
'Much To Me' by Marigolds is released on 2nd November on Beth Shalom Records.
Marigolds links: Facebook | Twitter | Bandcamp
Beth Shalom Records links: Website | Facebook | Twitter | Bandcamp
Do you have a new video or release you'd like to premier on Already Heard? If so contact Sêan Reid to find out more.
---
If you have enjoyed reading this article and would like to help us produce more content and promote more great new music, please consider donating to our Patreon page.