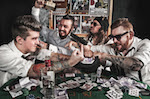 Portsmouth post-hardcore/dubstep band Seething Akira have premiered their new video for 'Paralysed'.
The track comes from the quartet new EP, 'Aggro Vito' which is set to be released on 2nd June.
1) Firepower
2) Paralyzed
3) Backlash
4) Paralysed – The Algorithm remix
5) This Is Our World – Victory Pill remix
The video for 'Paralysed' can be viewed by clicking read more.