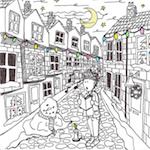 Scylla Records has released a 15 track Christmas compilation to raise money for Great Ormond Street Children's Hospital.
'It's Better To Give Than Receive' is available for a minimum £5 donation and can be downloaded here.
1) Traitors! – Lonely This Christmas
2) Hello Lazarus – A Spaceman Came Travelling
3) Boy Mercury – Shake Up Christmas
4) Natives – I Wish It Could Be Christmas Every Day
5) Lion In The Mane – Wonderful Christmas Time
6) The LaFontaines – Last Christmas
7) Fort Hope – Patched And Sewn
8) Flights – Carol Of The Bells
9) Sons Of Guns – Happy Xmas (War Is Over)
10) Next Stop Atlanta – Merry Christmas Everyone
11) July – This Christmas
12) Cautioners – All I Want For Christmas
13) I'm Happiest When… – Winter Song
14) Anavae – Santa Stole My Girlfriend
15) The October Game – Silent Night
A stream of the compilation along with Hello Lazarus' videos
for 'A Spaceman Came Travelling' can be found by clicking read more.