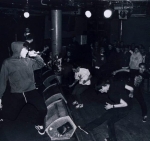 South London Hardcore band Rough Hands have confirmed they will release a new 7" EP titled 'Nothing's Changed' on Holy Roar Records on June 23rd.
1. Mind In Pieces
2. –
3. Nothing's Changed
4. Selfish Misery
5. Conscientia
The EP can be streamed in its entirety after the jump below.