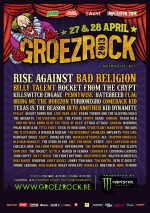 On a day that has seen news about several UK festivals; Slam Dunk, Hit The Deck and Ghostfest, the organisers of Groezrock have announced several new bands to this years festival including Rocket From The Crypt, Frank Turner, Turbonegro, Sparta, Pure Love and Samiam.
The latest names added to Groezrock 2013 are:
Rocket From The Crypt
Frank Turner and The Sleeping Souls
Turbonegro
Sparta
Samiam
Pure Love
Masked Intruder
Implants
The Front Bottoms
Midnight Souls
Crossfaith
Crushing Caspers
John Coffey
Six Ft Ditch
Smoke Or Fire
Adept
While She Sleeps
Kristopher Roe
Walter Schreifels
Jonny Two Bags
Dave Hause
PJ Bond
Into It. Over It
Geoff Rickly
Groezrock 2013 will take place across two days on Saturday April 27th and Sunday April 28th. Visit groezrock.be for more information.
The full lineup for Groezrock 2013 can be viewed by clicking read more.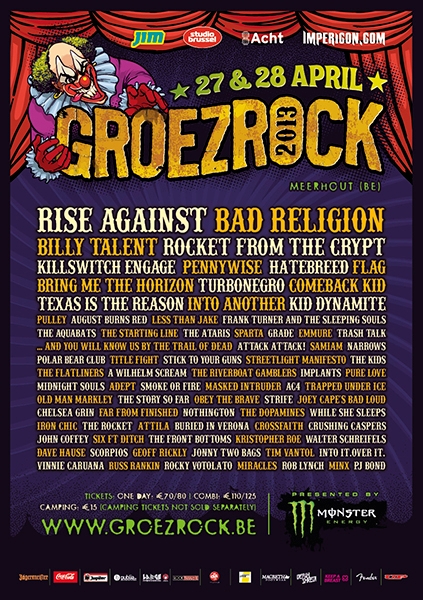 (In no particular order)
Rise Against
Bad Religion
Billy Talent
Pennywise
Bring Me The Horizon
Hatebreed
Flag
The Riverboat Gamblers
Emmure
Attila
Comeback Kid (Original line-up performing 'Turn It Around')
Texas Is The Reason
Chelsea Grin
Buried In Verona
AC4
Grade
The Story So Far
Polar Bear Club
Into Another
August Burns Red
Title Fight
Nothington
The Rocket
Stick To Your Guns
Obey The Brave
Far From Finished
Russ Rankin
Tim Vantol
Vinnie Caruana
Rocky VotolatoKillswitch Engage
Kid Dynamite
The Starting Line
The Aquabats
Less Than Jake
A Wilhelm Scream
Strife
Trapped Under Ice
Streetlight Manifesto
The Dopamines
The Flatliners
The Ataris
Attack Attack!
…And You Will Know Us By The Trail Of Dead
The Kids
Joey Cape's Bad Loud
Iron Chic
Old Man Markley
Minx
Rob Lynch
Miracles
Scorpios
Trash Talk
Pulley
Narrows
Rocket From The Crypt
Frank Turner and The Sleeping Souls
Turbonegro
Sparta
Samiam
Pure Love
Masked Intruder
Implants
The Front Bottoms
Midnight Souls
Crossfaith
Crushing Caspers
John Coffey
Six Ft Ditch
Smoke Or Fire
Adept
While She Sleeps
Kristopher Roe
Walter Schreifels
Jonny Two Bags
Dave Hause
PJ Bond
Into It. Over It
Geoff Rickly